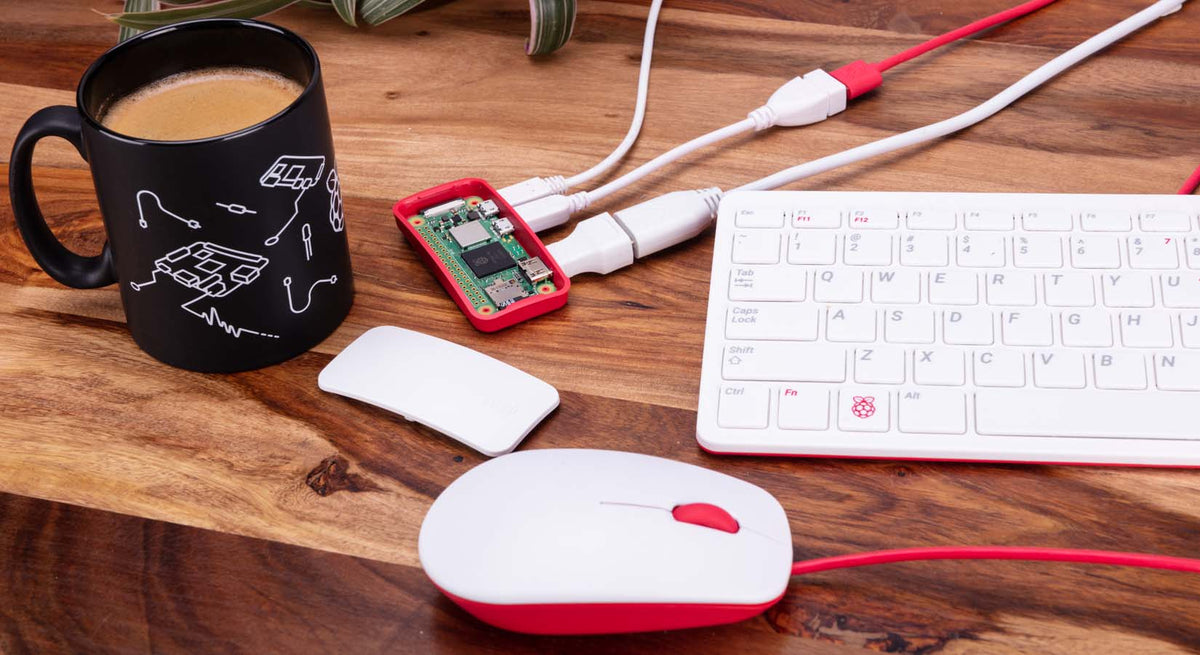 Awesome Raspberry Pi Zero 2 Projects to Make This Weekend
It's the day after the big Raspberry Pi Zero 2 launch and many of you (in the UK) will start to receive your deliveries in time for this weekend.
So, what to make? Luckily the overall shape, size and function hasn't changed since the previous versions of the Zero, so pretty much all existing projects can be made with the latest Zero 2.
The superb combination of the Zero's small size, quad-core processing power, low power consumption, 40 GPIO pins, display output, USB connectivity and camera connector means the Zero 2 has an abundance of well-documented projects for you to try!
Here's some of our favourite projects you can try this weekend with the Raspberry Pi Zero 2.
Block Ads using Pi-hole with the Raspberry Pi Zero 2
Advertisements on websites and streaming services aren't so bad if the content/ad ratio is sensible...but this is rarely the case!  Luckily you can turn your Raspberry Pi Zero 2 into a network-level ad-blocker, for free, in less than an hour!
Pi-hole blocks ads, trackers and anything else you want at network level. This means no blockers being installed on every PC or browser and having to manage settings separately. This can help with privacy, network speed, safe surfing and above all - annoyance!
You'll need to be comfortable with logging into your router and changing a few settings, but Pi-hole do a great job of documenting the install process and settings over on their documentation website. It won't stop YouTube ads, but with the right settings you can stop them on 4OD and ITV Player.
The best part is that it can be run wirelessly and doesn't need a lot of resources, which makes the new Raspberry Pi Zero 2 a superb hardware option for the project.
Make a DIY Raspberry Pi Zero 2 Webcam
The Raspberry Pi Zero 2 has a small camera connector at one end which can directly accept a ZeroCam camera or one of the Official Raspberry Pi Camera Modules when used with an adapter cable.
Without doubt, one of the most relevant Raspberry Pi camera projects during COVID-riddled 2021 was to make a webcam for those awkward work and family video calls - especially as USB webcams were like gold dust through most of the year.
Our favourite example of this has to be Jeff Geerling's HQ Camera webcam. Jeff uses one of our mounting plates with a Raspberry Pi HQ Camera to make a great-quality DIY Raspberry Pi Zero webcam. 
(Support for the various video conferencing services with the Raspberry Pi can change from time to time, but most major platforms are supported depending on the software you use).
Hack Wi-Fi with a Raspberry Pi Zero 2 and Pwnagotchi
Hacking is normally associated with shady characters tapping away at keyboards in darkened rooms, sometimes for evil deeds, sometimes for the greater good of mankind. It's also used as a way to learn about multiple computing elements from network security to Linux commands.
Whatever your view on hacking, the Raspberry Pi Zero 2 can be used as a practical, low-cost hardware option for certain hacking methods. One project that really caught our eye is Pwnagotchi.
Pwnagotchi uses the Raspberry Pi Zero's built-in Wi-Fi to 'sniff out' crackable WPA key material. It 'eats' handshakes (the packets of information transmitted between client devices and access points) over time, and provides the resulting information/files which can be used to crack a Wi-Fi network key.
"But why?" I hear you ask? The developer says "to give hackers an excuse to learn about reinforcement learning and Wi-Fi networking—and have a reason to get out for more walks.". See? It's about learning...
Clever techy stuff aside, the project's popularity could also be be attributed to the fun faces that the developer implemented, which are shown on 2.13" ePaper displays. 
Monitor your 3D Printer with a Raspberry Pi Zero 2
Many of you are proud owners of 3D Printers AND actually have the time to make cool stuff with them! We're very jealous of you.
Envy aside, something we see a lot of our customers making with the Raspberry Pi Zero are 3D printer monitoring projects - combining a Raspberry Pi Zero with a camera module and streaming the output over the built-in Wi-Fi, allowing you to keep an eye on your print from the comfort of your sofa.
A simple fun project here is a time-lapse of your print, using the raspistill commands via a terminal session. You can also use popular Raspberry Pi 3D printing software such as OctoPrint which has built-in support for camera modules, or other streaming options such as MotionEyeOS. 
Build a Raspberry Pi Zero 2 Retro Gaming Console
If there's one thing I enjoy after a hard day in The Pi Hut office, it's spending time with my family playing computer games!
We've seen the original Zero used in gaming emulators and the GPI case for years, but there were naturally some limitations on the original single-core CPU when compared to the grunt that the 1.5GHz quad-core Raspberry Pi 4 could provide.
With the new Raspberry Pi Zero 2 now full of 1GHz quad-core swagger, it's going to be able to run a longer list of emulators and games than ever before.
So what are you waiting for? Download RetroPie, find yourself some legitimate game ROMs and give it a spin. You can play many games with just a keyboard, but you may want to invest in a USB controller too (you'll also need a USB shim to connect it to the Zero 2).
Automate your Home
Home automation with the Raspberry Pi has become a popular project thanks to the somewhat questionable privacy and hardware costs on popular mainstream services (we won't name names...they're probably watching us right now!)
Those of us not willing to give the 'big two' access to all of our secrets, sounds and smells have turned to DIY options that can run on a Raspberry Pi, such as Home Assistant and openHAB.
The cool thing here is that not only can a Raspberry Pi Zero 2 be used as a central hub for these services, but it can also manage hardware too. Add something like a relay HAT and you can control power to other (high-power) devices with a simple change of a GPIO pin status.
Construct a Raspberry Pi Zero 2 Robot
The Zero has always been a strong candidate for Raspberry Pi robotics projects thanks to the small size and low power consumption. With just a handful of affordable parts you can make a pretty decent robot with your Zero, and it's superb for learning how to code (and to engage the uninitiated who assume coding is boring)!
All Raspberry Pi robots need some essential key components: A motor driver, motors, wheels/tracks and power. You may also want to add a sensor to help it see where it's going.
Whilst we sell many different options in the store for you to combine, those new to robotics might prefer a Raspberry Pi robotics kit with compatible components, superb tutorials and a snazzy box to use as a chassis!
What did you make this weekend?
Being The Pi Hut's resident geek and 'product guy', I'm always genuinely interested to see what our customers are making, especially when it comes to the Raspberry Pi and the new Raspberry Pi Zero 2.
Show us your cool makes on whatever platform you use most - we're most active on Twitter, Facebook and Instagram. We sometimes feature community projects on our product pages, so please do share your uber-cool makes!
 - Rich (The Pi Hut Product Manager)