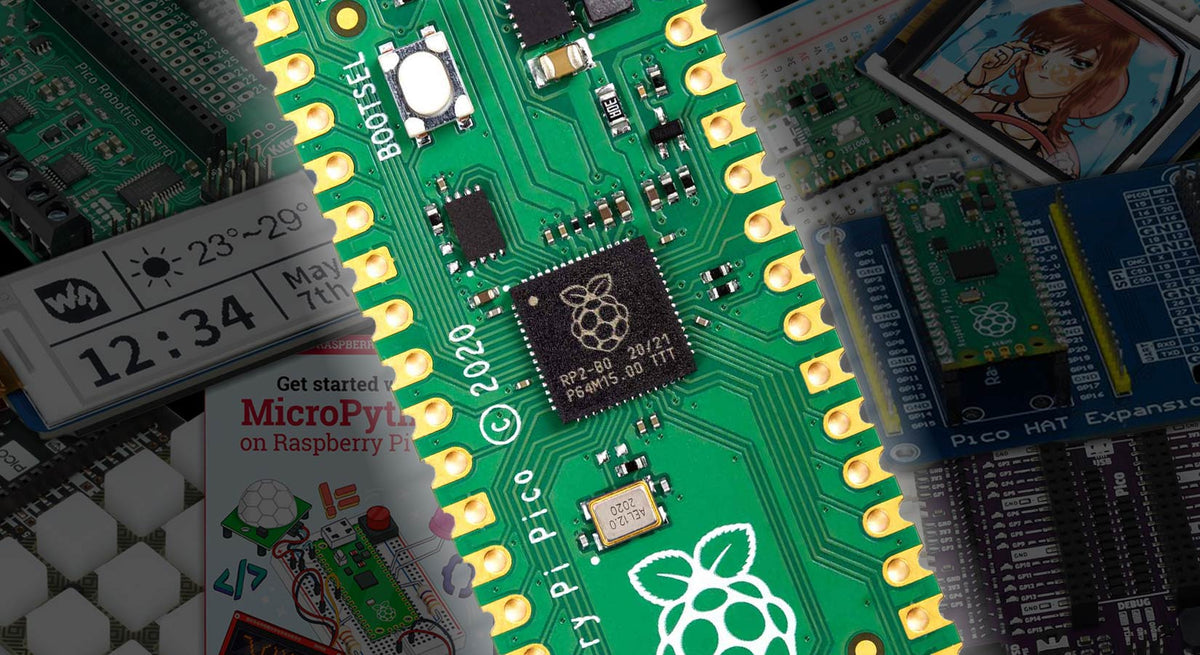 Top 10 Raspberry Pi Pico Add-ons & Accessories
The Raspberry Pi Pico was released in January this year and took most existing Pi fans by surprise. This was not another Raspberry Pi with a new number at the end - no, this was an entirely new board, in an entirely new shape with an entirely new brain inside - home-grown Raspberry Pi RP2040 silicone to be exact!
Whilst the new default programming language (MicroPython) isn't difficult for existing Python users to grasp, this change to the coding norm added a certain level of excitement to the Pico's release - combined with the new shape, pin layout and (of course) the very accessible low price!
All of this led to the design of a new flavour of HATs, add-on and accessories for the latest Raspberry in the family. They've always been popular basket fillers for our customers so it's no surprise that we've seen strong demand for our latest range of Raspberry Pi Pico goodies.
With such a great selection it's been extra-tricky to pick favourites, however, after some debate in the office here's the list of our Top 10 Raspberry Pi Pico Add-ons & Accessories!
Hold on there fellow maker - how are you going to enjoy all the juicy gear in this list if your Pico is lying naked with no pins or cable?!
Don't worry, we've got your back. You loved our Essential Raspberry Pi Zero Kit so it only seemed right for us to come up with a Raspberry Pi Pico version.
The Essential Raspberry Pi Pico Kit is, as the name suggests, essential! It includes a selection of different pin headers to solder to your Pico, along with a USB cable for programming and a few extras like rubber feet and a USB shim for direct-connecting a Pico to your USB port. It comes in a nice little tin too!
We included this little 1.8" Pico display in one of our recent new product emails and it sold out almost immediately - a clear favourite for our customers, and a quick glance will explain why.
With a sub-tenner price tag and no soldering required, this tiny LCD Pico add-on just screams "fun weekend project" (assuming you get a pass from your partner of course!).
With 65K colours, a simple SPI interface and example code, this Pico add-on is right up there with the best of them.
The Pico might be small but it's still capable of complex projects with lots of moving parts. A GPIO pin is a GPIO pin after all - it's how you use them and other components that make the difference.
Enter the Robotics Board for Raspberry Pi Pico. This powerful yet affordable robotics board is a great foundation for an impressive Raspberry Pi Pico robot project. This powerhouse allows your Pico to drive 4 motors (or 2 stepper motors) and 8 servos - with full forward, reverse and stop control!
What better companion for the low-power Raspberry Pi Pico than a low-power display?
This is Waveshare's 2.13" E-Paper Display for the Pico, an add-on we anticipated considering the huge popularity of their similar 2.13" E-Paper pHAT for the Pi Zero.
This is a seriously low-power display, running around <0.01uA (almost no power) in standby mode. It won't play videos though - it's an E-Paper display, which means you send an image to the screen and it'll stay there using almost no power at all until you refresh it with a new image. Cool!
This one isn't an add-on board but it will make tinkering with the Pico a LOT easier.
The Breadboard for Pico is a simple yet genius idea from MonkMakes. They took the off-the-shelf breadboard design and had a custom version created with the Raspberry Pi Pico's pin numbers running up the lanes.
No more pin counting and no more magic blue smoke from mixing up 3.3V, 5V and GND! Smart idea!
The Maker Pi Pico Base is the unicorn of Raspberry Pi Pico accessories! This thing has it all, and it doesn't want all of your pocket money for it either.
Onboard you'll find GPIO indicator LEDs, 3 programmable pushbuttons, an RGB LED, buzzer, stereo 3.5mm audio jack, micro-SD card slot, ESP-01 socket, 6 Grove ports and more! There's even room on the back to write your name to make it yours.
Tons of features, excellent documentation and still less than the price of two pints in a London pub - it's a winner! There's also a version with a Pico pre-soldered into it!
Now here's a cool add-on for your Pico that will be the envy of your friends, family and even your pet cat Dave - the Pico RGB Keypad Base.
It's a 4x4 squishy RGB-illuminated keypad hooked up to a set of headers for your Pico to push into, giving you everything you need to make an awesomesauce USB macro keypad or midi controller (and lots of other things!).
Program the button's addressable LEDs to change colour based on your inputs or other variables and create the ultimate keypad sidekick!
Existing owners of impressive Raspberry Pi HAT collections may find this Pico accessory interesting with its potential to inject new life into your old add-on boards.
The Raspberry Pi Pico HAT Expansion allows you to use traditional 'Model B' Raspberry Pi HATs with the Pico, giving you a chance to try your new MicroPython or C/C++ skills with boards intended for the traditional Raspberry Pi and Python.
The Pico pins are broken out to male headers for you as well, giving you lots of project prototyping options. Handy!
A unique entry for this list, the Electronic Clock for Raspberry Pi Pico allows you to create a programmable clock with your Pico!
Complete with the sleek casing and a USB cable, this interesting Pico clock project includes a high precision RTC, photosensor, buzzer, buttons and features multiple functions including an accurate electronic clock, temperature display, auto-brightness adjustment, alarm and custom button configuration.
Last but by no means least is our favourite book for the Raspberry Pi Pico. In fact it's currently the only book we offer for the Pico, but it's our go-to Pico manual because it's just so clear and helpful.
This colourful and easy-to-read Pico bible will help all levels of maker get to grips with the latest Raspberry Pi. Covering the Pico's hardware as well as the MicroPython programming language, the book shows you how to code simple projects with wiring diagrams, tips and more!
An essential read for any Pico owner at any experience level.
Oh You Want More?!
We're tirelessly sniffing out all of the latest and greatest Raspberry Pi Pico accessories every single week, so just keep an eye on our growing Raspberry Pi Pico section for more!
If you can't find what you're looking for (either for the Pico or any other part you need), pop us a message over on our support portal and we'll do everything we can to accommodate your needs.
 - Rich (The Pi Hut Product Manager)