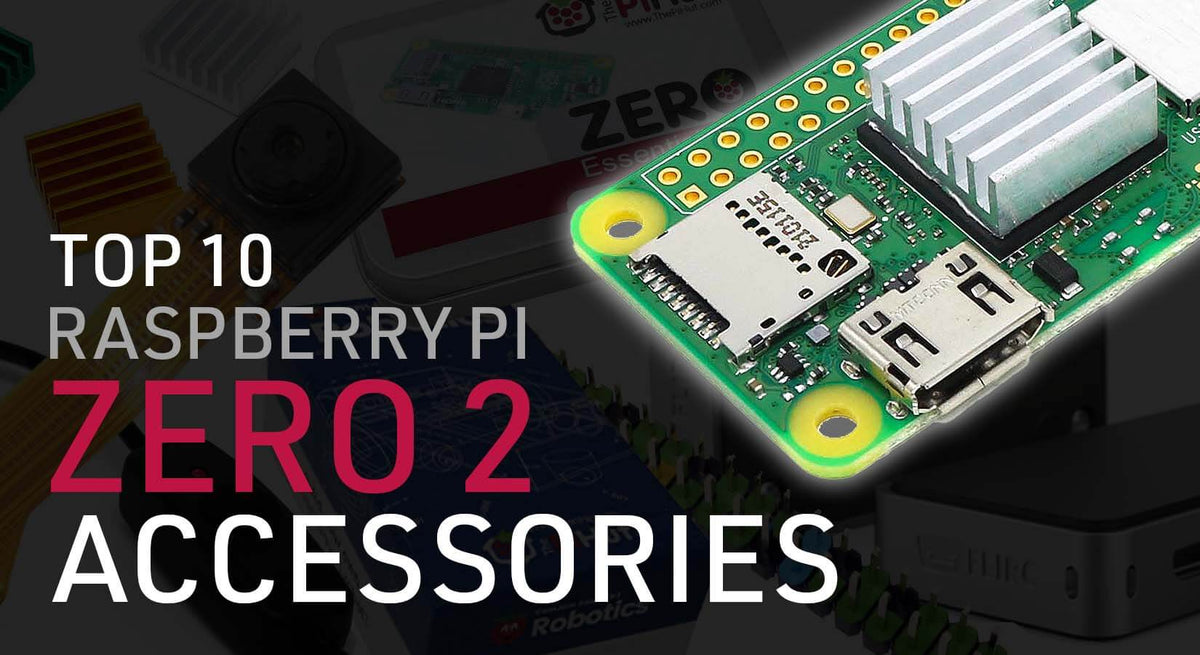 Top 10 Raspberry Pi Zero 2 Add-ons & Accessories
The Raspberry Pi Zero 2 was released on 28th October 2021 sporting a quad-core 1GHz processor squeezed into the same Raspberry Pi Zero shape and size we all know and love. Five times the processing power and it still fits in your pocket!
Thanks to the latest Zero using the same form factor as previous generations, the majority of our Raspberry Pi Zero add-ons and accessories are compatible with the new board (bar a few cases).
But what do you need to get your Raspberry Pi Zero 2 up, running and ready to code? What are the best accessories and 'clever little bits and bobs' that make project building easier and more convenient?
With way too many cool things in the store to choose from, here's our list of the top 10 Raspberry Pi Zero 2 Add-ons & Accessories!
Whilst this isn't strictly a Raspberry Pi Zero 2 accessory, it is packed with them!
Our Zero 2 starter kit provides you with a Raspberry Pi Zero 2 board, premium case, official power supply, mini-HDMI cable and our essentials tin full of all the handy adapters and headers you'll need.
The kit also saves you money on buying the parts individually, so it's a win for convenience and a win for your wallet!
If there's a few absolute must-have's for the Raspberry Pi Zero 2, it's adapters and headers!
Adapters are essential for converting that little micro-USB (data) port for use with standard USB peripherals like a keyboard & mouse or even USB flash drives. You may also want to convert the Mini-HDMI port to full HDMI to make use of any HDMI cables you already own.
GPIO header pins are also essential if you want to get your hands dirty with LEDs and circuits, allowing you to easily connect jumper wires to a breadboard from your Zero.
Our Essential Raspberry Pi Zero Kit includes all of these essential adapters and headers in a super-swish metal tin (which you can use for storage too...your Zero 2 will even fit inside!)
There's barely any room left on the Raspberry Pi Zero 2 PCB now that Raspberry Pi have packed in the 'sandwich' RP3A0 (which packages the CPU and RAM together to save space)...so we couldn't have expected them to add a power switch as well.
Fear not - we have a cable for that! Our micro-USB on/off switch cable is one of those handy little extras that makes life a lot easier when you're in the thick of it at 3AM prototyping a project on a work night. This simple switch removes power completely when needed - saving you from having to pulling out cables every time (it should reduce wear on your Zero 2's power port too).
Just like previous models and the Raspberry Pi 4, the Raspberry Pi Zero 2 comes with no less than 40 GPIO pins for you to play with - enough for even the most buttony of projects!
The only drawback of this wonderful abundance of pointy stuff is trying to figure out which one is which when wiring up a project. One false move could cause the magic blue smoke to appear!
Our solution? We came up with these nifty colour-coded GPIO headers as a compass to guide your pin counting. Red is 5V, Yellow is 3.3V, Black is GND and Blue is DNC - everything else is an IO pin. Simple, clever and affordable!
With the Raspberry Pi Zero 2 using silicon from the Raspberry Pi 3, it's going to run a little hotter than previous models of the Zero. You won't be able to cook a really tiny egg on it, but some cooling support certainly wouldn't be a bad idea for busy projects.
To keep your Zero 2 looking cool and actually cool, we designed a self-adhesive heatsink that you can slap on the RP3AO sandwich chip in a matter of seconds, helping release heat from the CPU more efficiently. Available in no less than 7 colours!
Did you know you can make a pretty decent DIY Raspberry Pi webcam out of a Raspberry Pi Zero 2 and a Raspberry Pi High Quality Camera?
Jeff Geerling shows you how in this excellent video where he combines a Zero with a HQ Camera and one of our affordable mounting plates. With the Zero 2 offering even better (quad-core) CPU performance, we think this is up there with one of the best Raspberry Pi Zero 2 projects you can make!
The ZeroCam is a super-small camera for your Raspberry Pi Zero 2 which, unlike the standard Raspberry Pi Camera Modules, doesn't require any adapters as the cable is designed for the Zero's smaller camera connector.
Despite its tiny footprint, the ZeroCam has a 5MP resolution and can shoot 1080p video at 30FPS (or 60 FPS at 720p). It uses the same commands as the official camera module too, making it easy to use.
We have a range of versions available too - from standard to fisheye to night vision!
Imagine a Raspberry Pi Zero 2 case with great looks, excellent cooling performance and as tough as a semi-professional wrestler. Imagine no longer because it's already here - the FLIRC Zero!
The stylish main body of the case is made from a single piece of aluminium which connects to the Raspberry Pi Zero 2's CPU to silently extract heat away and through the metal body.
Two lids options are included - one for GPIO access and another completely sealed. Your SD card is securely hidden inside the case away from would-be thieves and sticky fingers!
At some point you're probably going to need to write a new operating system to your Raspberry Pi Zero 2s Micro-SD card. This could be to try a new OS or simply as a clean n' fresh copy of Raspberry Pi OS after a major release.
Not all of us have fancy laptops with integrated card readers, so our compact and affordable USB card reader is a must-have for most Zero 2 users. Notice how the SD slots inside the reader to allow it's incredibly small size!
If there's one thing the Raspberry Pi Zero 2 was born for, it's robotics! Small, light, low-power and with enough processing power for advanced robots - the Zero 2 is just screaming to be turned into the next C-3PO.
The CamJam Robotics EduKit provides all of the parts needed to create a small robot with your Zero, which will teach you lots about Python at the same time.
Oh You Want More?!
There are hundreds of other Raspberry Pi Zero 2 compatible parts and accessories in the store, and we're constantly adding more every week. Be sure to check out our Raspberry Pi Zero Accessories & Add-ons section and consider signing up for our email newsletter (below) to be the first to know when great new gear is added to the store.
If you can't find what you're looking for (either for the Zero 2 or any other part you need), pop us a message over on our support portal and we'll do everything we can to accommodate your needs.
 - Rich (The Pi Hut Product Manager)