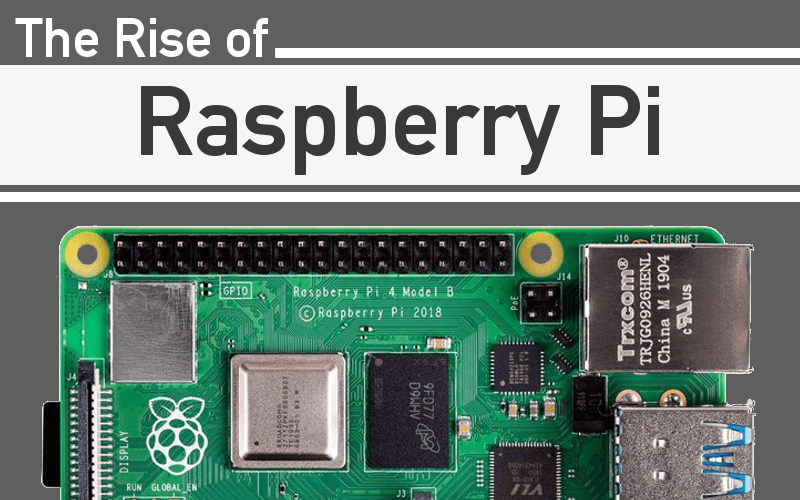 The Rise of Raspberry Pi
A wildcard entry when it launched in 2012, the Raspberry Pi is now the undisputed king of computer programming projects. As of 2017, it is the 3rd best-selling general purpose computer platform following the MAC and the PC, with 12.5 million boards sold in 5 years at this point.

When the project was born, the creators envisaged selling no more than 1,000 of the boards to hardcore enthusiasts at Cambridge University who were looking for an easier way to get into computing.

So, how did such a meteoric rise occur, and what's next for the credit card sized computer which has brought about a whole new generation of computer programmers?

The Pi Hut looks at the rise of the Raspberry Pi below and gets nostalgic, at what has certainly been a trailblazing 8 years.
The Problem
Like many successful projects, Raspberry Pi was born out of frustration.

Founder Eben Upton found that students were arriving at Cambridge University, ready to learn about computer coding, with very little knowledge compared to years previously.

If we look at a timeline of computers, the 1980s saw a boom thanks to new ready-made and more-affordable home computer offerings such as the Sinclair ZX80. Over the next 20 years or so, computers became increasingly complicated and much more capable, to the point that by the mid 2000's there were more consumers than coders.

As the need to understand how to code and program became less important for consumers, students were coming to University to learn computer coding with a lack of intrinsic knowledge, enthusiasm, and understanding of basic computing.

Students had limited options for getting to grips with coding in a cheap, practical and accessible way. That first exciting spark was lost, which is when founder Eben Upton decided to do something about it.
The Challenge
Founders knew what the problem was – the challenge came in finding the solution.

Creating a relatively powerful computer, accessible for beginners and at a realistic price point for youngsters and students wasn't going to be easy.

So they went to the drawing board, and in 2006 the first prototype was born.
The Solution
Whilst Windows Vista development completed in 2006, it wasn't a complete flop for the computing world – the original Raspberry Pi prototype was born in February of the same year and would go on to be a worldwide success.

Of course the first prototype was nothing like the first public release of the Raspberry Pi, which hit the shelves (and quickly sold out) in February 2012. However the concept was the same: a single board computer which was cheap to manufacture and sell, easy to use and ultimately the tool to get students enthused about computer programming once again.

The prototype underwent several years of honing and perfecting, bringing down the cost and the size of the board whilst improving usability, connectivity and overall performance.

In 2009, The Raspberry Pi Foundation was born, and with funding from this charitable body and other trustees, the Raspberry Pi creators were able to pursue their project.
In 2011, the first prototype was revealed by the BBC. Hype for such a small powerful computer were only increased by this announcement. This meant that by 2012, when the final product launch came about in February with the help of a BBC video, there were over 100,000 ordered on its first day.

The famous remark that they planned to sell 'no more than 1,000' meant that founders had to pull in the help of licenced electronic distributors Premier Farnell and RS Components, who assisted in manufacture and distribution.
The first Raspberry Pi Model
The Raspberry Pi 1 Model B offered the following headline features:
700 MHz single core processor
256MB RAM
Two USB 2.0 Ports
Composite video
Standard HDMI
100MBPS Ethernet
26 pin GPIO header
Full-size SD port for operating systems
Powered by micro-USB
The enormous success of the first model was not only due to young enthusiasts, but passionate hobbyists who saw the Raspberry Pi as their favourite new toy – cheap and durable, with the ability to be used for a whole range of computing projects. In fact, 4 out of 5 of sales were from older tech enthusiasts.

One of the most appealing things about the Raspberry Pi is the ultimate control it gives the user. Its carefully crafted components are capable of dealing with a number of different inputs, outputs and additional hardware.

The Raspberry Pi also offers users a wide choice of programming languages and operating systems to use in their projects, adding to the attraction of the cred-card sized computer.

Since the initial launch, new Raspberry Pi models have continuously improved performance and efficiency alongside adding new/improved features, whilst also maintaining its low price. This lead to a huge following of computer coding enthusiasts, young and old, keen to push each model to the limit.

Now fast forward a few years...
The launch of the Raspberry Pi 4 (2019)
Here are a few stats to emphasise how fast the rise of Raspberry Pi has been:
The Raspberry Pi 4 is THREE times more powerful than the Raspberry Pi 3, it's predecessor
It is FIFTEEN times faster than the original Raspberry Pi released in 2012
It can even offer better performance on desktop than some traditional budget PCs

To satisfy a huge audience with varying project needs, budgets and coding capabilities, the Raspberry Pi 4 originally came in three RAM versions:
Amazingly the Raspberry Pi Foundation managed to maintain the same $35 price tag for the lower memory boards, with a slightly higher price tag for those wanting more performance. However, with this comes more capabilities and scope than any other model.
What can a Raspberry Pi be used for?
The Raspberry Pi is incredibly versatile and packs enough power to support a huge range of projects, including:
Learning to code
Retro games consoles
Robots
File servers
Media centres
Car computers
Smart mirrors
Camera projects
4K video
...and much more!

You can check out some of The Pi Hut's latest Raspberry Pi projects for inspiration:
What's next for Raspberry Pi?
There's no official say on when the next Raspberry Pi will be released. For now, the various models on the market provide a huge range of scope for enthusiasts to continue challenging themselves with bigger and better projects.
Whenever the next model is developed, there will, as ever, be a strong following of programmers ready to test its capabilities and build on what is already a dedicated community brought together by one thing – their shared love for all things Raspberry Pi.