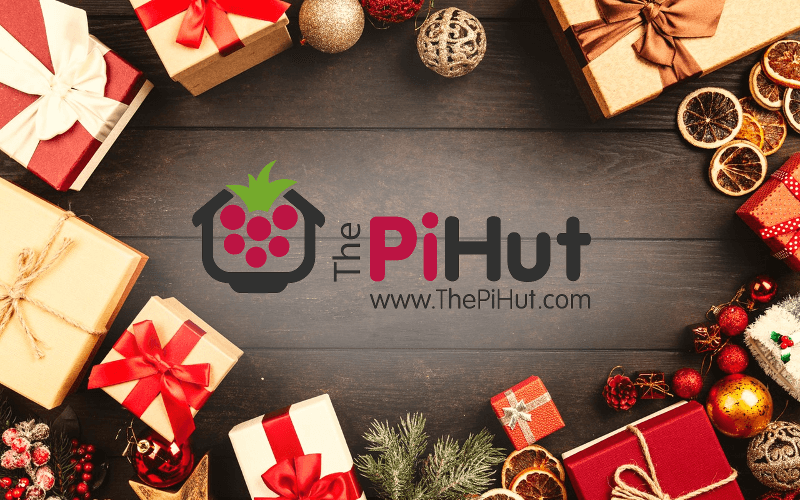 Raspberry Pi Christmas Buying Guide 2019
We're already in December, which is scary as we've been eating tubs of chocolates in the office for at least a solid month. That crept up fast again right?!
There's about 3 weeks of shopping time left, so we thought we'd help our fellow last-minute shoppers with a Christmas buying guide. Don't forget to place your orders by 20th December for Christmas delivery in the UK!
If you've got a coder, hacker or geek in the family to buy for this festive season, here's a great selection of gift options to make you more popular than ol' St. Nick himself.
Jump to section:
For Eager Beginners
If you're reading a Christmas list which includes "Raspberry Pi" then you're already winning – a Raspberry Pi makes a fantastic gift for prospective programmers. They'll love you (or santa…) forever!
However, if you're not a maker yourself you might be wondering what to buy? Don't panic – we've selected a few great options to help you buy for these beginners.
There's no better way to begin the exciting journey into programming than with a Raspberry Pi starter kit.
The kit comes with everything you need to get stuck in with the Raspberry Pi – a fantastic all-in-one gift idea!
Due to its enormous popularity, the Raspberry Pi has become the go-to board for learning how to code. It has attracted a huge following of makers meaning help is just a simple search away. There's also thousands of great accessories, add-ons and components to keep making new exciting projects with.
If your loved one already has a Raspberry Pi, the EduKit range - 3 separate kits covering different areas of electronics – offers everything they need to start using electrical components with the Raspberry Pi.
Each kit contains all parts required to complete the easy-to-follow worksheets, which teach the user what the components are, how they work and how to use them.
The kits create small projects – from a traffic light system with the EduKit 1 to autonomous line-following robots in EduKit 3! A fantastic option for the budding maker!
This one's a great stocking filler for younger makers. The Play Board makes working with the Raspberry Pi GPIO a lot easier for those with little hands!
Four GPIO pins are broken out into large, clear pads for using with crocodile clips. Power and ground pins are also broken out, allowing the little people to make their first simple circuits with ease.
Grab the Play Board Extras pack for matching components, and some crocodile clips to wire it all up!
For the Experienced Maker
We've all got those family members who are impossible to buy for, and we find that seasoned Raspberry Pi tinkerers fit that description well.
They've already got boxes full of bits, so how do you surprise them this Christmas?
Take a snow-covered seat and let us suggest some interesting and less-common accessories for the Raspberry Pi – sure to impress them more than the default socks, whisky or soap!
Fall asleep in front of the TV whilst your loved one connects it to their new Raspberry Pi TV HAT this Christmas!
This clever HAT fits on to the Raspberry Pi and can receive Digital TV broadcasts – yes, you can watch the Queen's speech on a Raspberry Pi!
The maker in your life can enjoy creating a TV server which will allow them to stream terrestrial broadcasts to other devices on their network – smartphones, tablets and more.
Don't worry about them getting stuck- we've written a detailed guide to walk them through every step.
They might have mastered using one Raspberry Pi, but has the hacker in your life used 5 at once? Why not offer them the challenge this Christmas with the Cluster HAT 2.0!
The Cluster HAT fits on top of a Raspberry Pi Model B and includes slots to attach 4 Raspberry Pi Zero boards. This then allows a curious coder to experiment with small scale computing clusters from their very own home.
Detailed guides and videos will get them up and running in no time. A cracking present for any seasoned Raspberry Pi fan!
They may have controlled LEDs and buzzers, but how about breaking into new territory with the Automation HAT!
This jack-of-all-trades add-on for the Raspberry Pi includes three relays allowing the maker to control much juicier electronics – 24V 2A to be precise (no, not mains voltages – that's a bit too juicy!).
It also contains a ton of other features for making powerful projects such as home automation devices. It's fully-loaded with 3x 12-bit ADCs up to 24V, 1x 12-bit ADC up to 3.3V, buffered 24V inputs, 24V tolerant sinking outputs, indicator LEDs, screw terminals and MORE!
This will keep them busy during the festive break!
For Spoiling them Rotten
Christmas is that time of year where loved ones treat each other to things they wouldn't usually buy themselves – those special items they struggle to justify using their own hard-earned money for.
We've hand-picked three of our favourite luxury products for you, so you can continue working through that tub of chocolates before it's just those nasty coconut ones left...
iFixit make some of the finest maker tools on the planet, for serious makers who want quality, reliability and durability.
Treat your nerd to a posh tool set this Christmas and replace the janky old drivers they've been struggling with for months. They'll appreciate the well-presented set of 64 bits made from tough 6150 steel, and the custom aluminium driver with its various grip zones for excellent control.
It's all wrapped in a rugged case with magnetic closing, and even comes with a 150mm flex extension for those hard to reach fixings.
This isn't just another push-on screen for the Raspberry Pi – this thing is playing in a whole different league!
The HyperPixel uses a high-speed DPI interface, allowing it to shift 5x more pixel data than the usual SPI interface that regular small Pi displays use.
The HyperPixel has an IPS screen boasting an 800x489 pixel resolution (~235 PPI) and a 60 FPS frame rate. As it's an IPS screen, that crisp resolution is viewable from wide angles too – around an impressive 160 degrees.
The touchscreen model includes a custom-made glass cover and can be installed with a single line of code, and as it's capacitive touch it's capable of multi-touch!
If you're buying for a retro gaming nut with an equal obsession for the Raspberry Pi, you need look no further than this incredible case from RetroFlag.
The GPi case holds a Raspberry Pi Zero (in the cartridge!) and effectively turns it into a hand-held console from days gone by. It includes a 2.8" IPS screen and requires just 3xAA batteries to run the entire package.
It features a speaker within the body, a headphone port, working game buttons/d-pads and working power switches with shutdown script options.
It's simply one of the best retro gaming Raspberry Pi products available today!
For Filling Empty Stockings
If you're looking to pad out the presents, here's a sweet selection of stocking fillers – ten products under £10:
Blinkt: A neat 8 RGB LED add-on for the Raspberry Pi.
Status Board: A handy programmable status monitoring board for the Raspberry Pi.
Camera Module Camera Lens Set: Expand the field of view of your Raspberry Pi camera with this neat set of lenses.
Pico HAT Hacker: A labelled super-tiny GPIO breakout board for the Raspberry Pi.
Adafruit PCT2075: An upgrade on your standard temperature sensor! A precise 11-Bit Temperature Sensor with threshold alerts.
Adafruit PCB Ruler: Plastic rulers are so 1994. No maker is complete without a PCB ruler.
PiZero USB Stem: Convert your Raspberry Pi Zero or Zero W into a convenient USB dongle.
CamJam Edukit Motor Controller: One of the cheapest and simplest ways to move motors and create a robot with your Raspberry Pi. Well documented too!
Adafruit T-Cobbler Breakout kit: A convenient way to break your Raspberry Pi pins out to a breadboard, plus some soldering practice too.
ZeroView: Attach your Raspberry Pi Camera Module to a window and create a Raspberry Pi Zero CCTV project.
Merry Christmas from everyone at The Pi Hut!