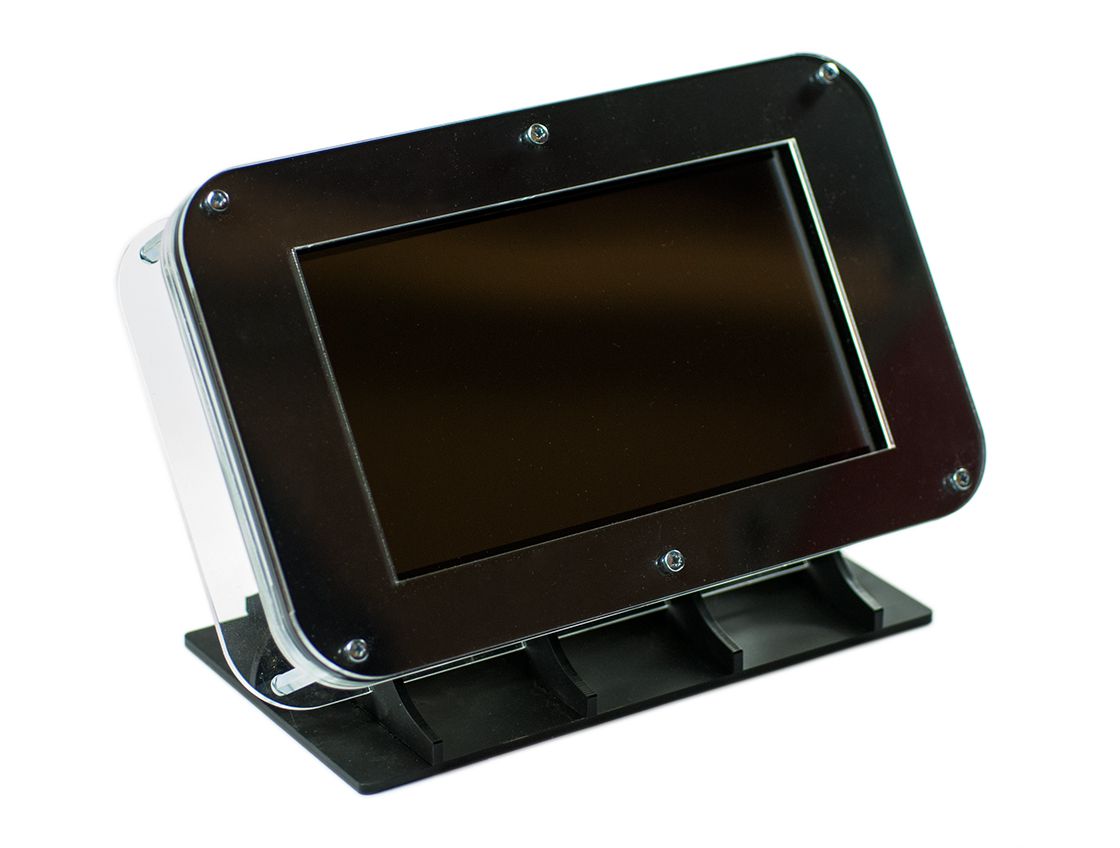 Raspberry Pi 7" Touch Sreen Display Case Assembly Instructions
The laser-cut parts of the case are protected by an adhesive film which needs to be removed before assembly.
Bill of Materials
Raspberry Pi A+/B+/2
Raspberry Pi 7" Touchscreen Display
12x Acrylic Plates
6x M3 20mm Screws
6x M3 6mm Screws
6x M3 F/F 30mm Standoffs
6x Rubber feet
Note: Acrylic is a hard and stiff plastic which is sensitive to stress concentrations and shares a certain level of fragility with glass. Acrylic can scratch easily and should be cleaned with a mild solution of dish detergent and warm water. Never use cleaners unsuitable for acrylic. Never use a dry, abrasive cloth.
Here are the parts from the case kit:
Follow these images checking parts and orientation of the acrylic pieces. You will see a before and after image for each step. Make sure you have all the parts ready, shown in the before picture.
Take the 6 long screws and the matte black acrylic piece. Position the screen centrally, and poke the screws through. There is a triangluar mark on the rear of the black piece, this goes at the "top" of the scren e.g. the same edge as the orange ribbon cable.
If you want, you can include any artwork, and the front Acrylic piece if you wish to customise your case.
Add the next piece. This is the thinner 1.5mm clear piece of acrylic.
Fitted:
And the next one. . . . There's a notch for the orange ribbon
Fitted:
Then add the next piece - This one has a notch for the Micro USB cable:
Fitted - We recommend you do this in a dust free environment. You can see the hazards of doing this on the floor :)
Add the next piece, this has large notches for the Micro USB and LAN cables
Fitted:
Screw on the 6 x M3 Standoffs
Fitted:
Add the final back plate - This now comes in clear so you can see your Pi!
Phew, that's the case assembled!
Now clip the mount together:
There's four notches, which the case slips into - Plop!