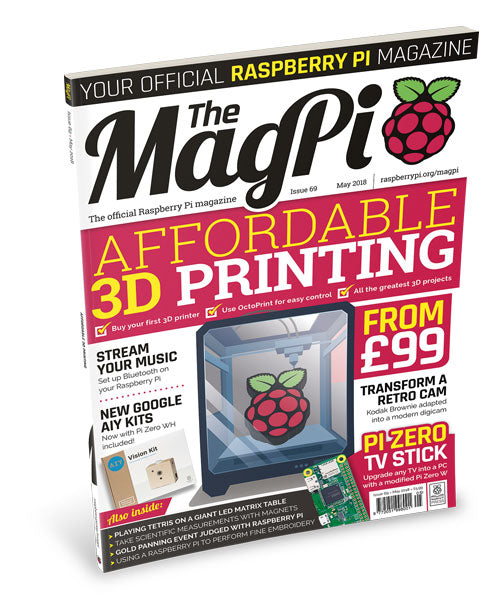 Raspberry Pi Roundup - a new issue of the MagPi, an upgrade to Etcher and a multi-touch skin device
MagPi #69
The new issue of The MagPi is out with plenty of features to read and makes to replicate. The main feature is on bringing Pi power to the world of 3D printing. Read more about the issue here.
Etcher upgrade
Etcher, the brilliant SD card writing software, has just been updated to v1.4.3 and there's some great new features in the release.
Ability to write to multiple targets at once. Just select them from the device listing. This means that Raspberry Jam organisers can now get those pesky SD batches written much more quickly.
Ability to flash the Compute Module directly.
Better performance and more reliable.
Ability to write empty SD cards plugged into a Raspberry Pi Zero/Zero W without a card writer.
You can download Etcher from this website.
Skin Touch
Scientists from Germany's Saarland University, led by Prof. Jürgen Steimle, have been developing a technology for the past three years which they've called Multi-Touch Skin. The devices, which are a thin layer of PET (polyethylene terephthalate) plastic over-printed with an inkjet printer in less than a minute, can be adhered to the skin anywhere on the body. These are wired to a touch-controller chip which is then connected to a Raspberry Pi Zero, powered by batteries. The Zero then triggers a response based on the type of touch recorded. At present, these actions have included:
a bracelet on which a two-finger rotation allows users to change the color of an LED lamp and on which a two-finger sweep controls the brightness
a behind-the-ear sticker that lets users control the volume of a music player by swiping up or down, advance through tracks by swiping left or right, and pause playback by pressing
a forearm sticker that, when squeezed, causes a smartphone to send a text message
a palm-mounted sticker that lets users accept or reject calls from a smartphone, with a touch.