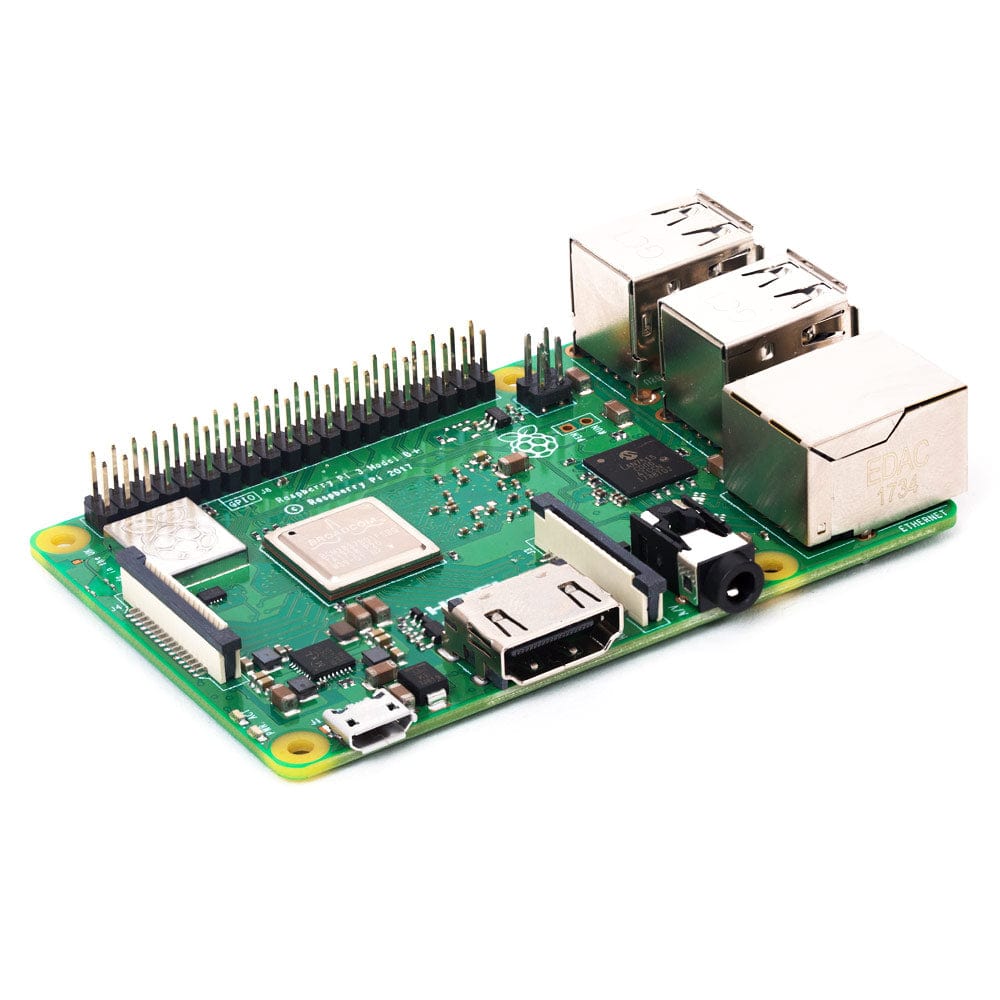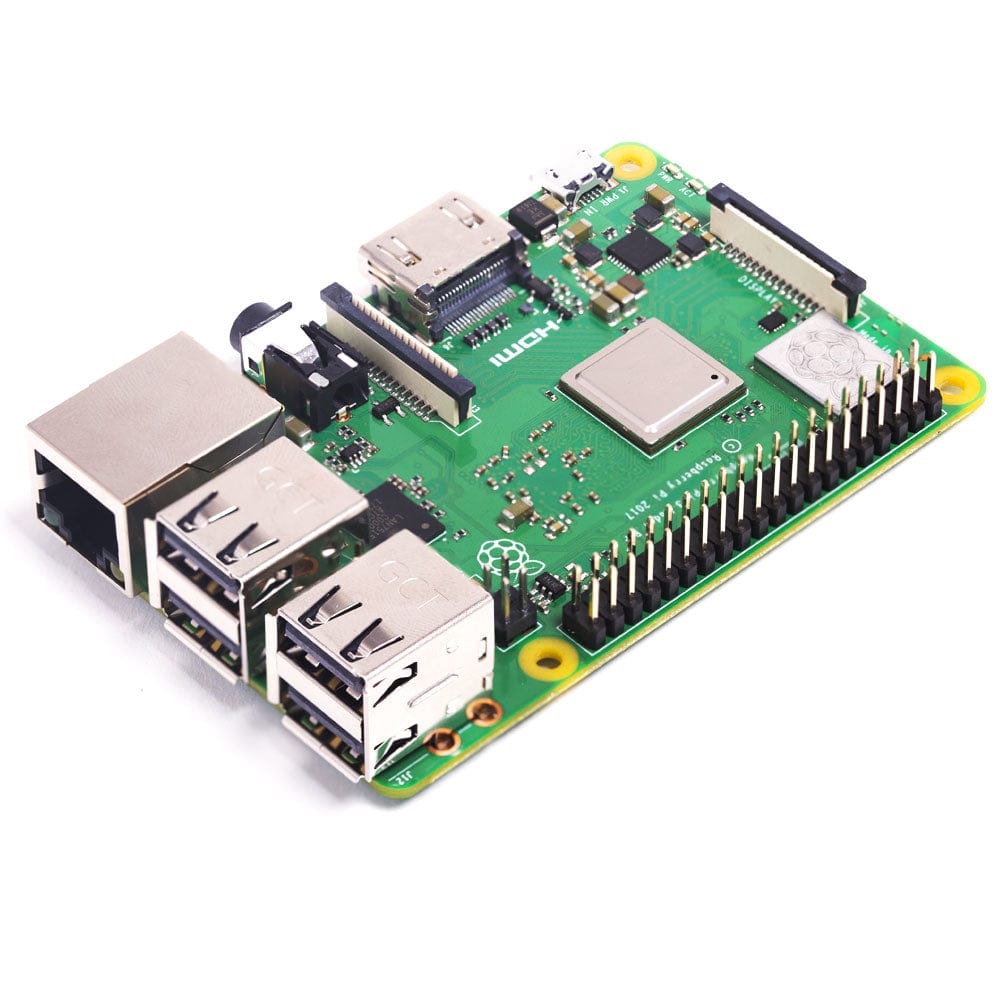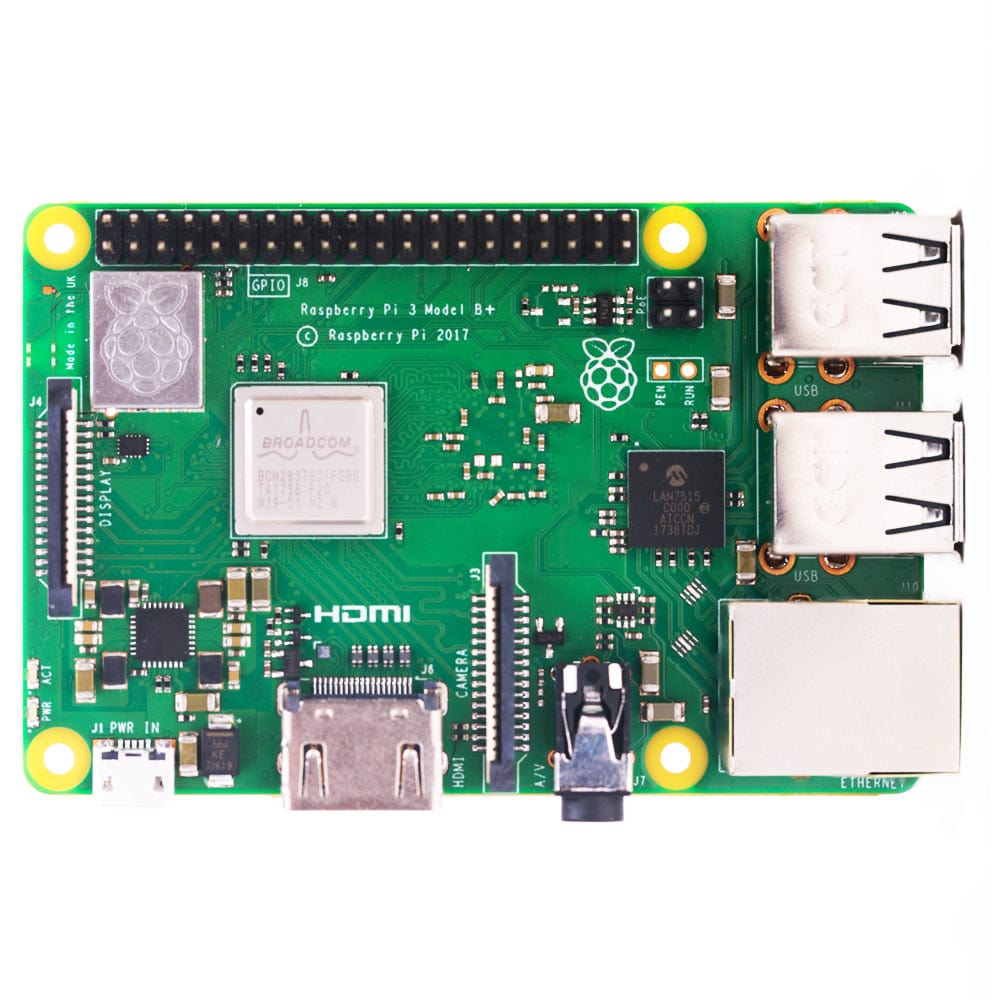 The latest Raspberry Pi 3 Model B+ has a faster 64-bit 1.4GHz quad core processor, 1GB of RAM, faster dual-band 802.11 b/g/n/ac wireless LAN, Bluetooth 4.2, and significantly faster 300Mbit/s ethernet.
1.4GHz 64-bit quad-core ARM Cortex-A53 CPU (BCM2837)
1GB RAM (LPDDR2 SDRAM)
On-board wireless LAN - dual-band 802.11 b/g/n/ac (CYW43455)
On-board Bluetooth 4.2 HS low-energy (BLE) (

CYW43455

)
4 x USB 2.0 ports
300Mbit/s ethernet
40 GPIO pins
Full size HDMI 1.3a port
Combined 3.5mm analog audio and composite video jack
Camera interface (CSI)
Display interface (DSI)
microSD slot
VideoCore IV multimedia/3D graphics core @ 400MHz/300MHz
With the ARMv8 processor it can run the full range of ARM GNU/Linux distributions, including Snappy Ubuntu Core, as well as Microsoft Windows 10 IoT edition.
Faster processing
Improved thermals on the Pi 3 B+ means that the CPU on the BCM2837 SoC can now run at 1.4GHz, a 17% increase on the previous Pi 3 model (which ran at 1.2GHz).
Video performance on Pi 3 B+ is similar to the previous generation Pi 3, the VideoCore being clocked at 400MHz for video processing and the 3D graphics processor running at 300MHz.
Faster wireless
A significant change on the Pi 3 B+ compared to the Pi 3 is the inclusion of a new faster, dual-band wireless chip (CYW43455) with 802.11 b/g/n/ac wireless LAN and Bluetooth 4.2.
The dual-band 2.4GHz and 5GHz wireless LAN enables faster networking with less interference (although the higher bandwidth has less range), and the new PCB antenna technology should allow better reception.
Bluetooth allows you to use a wireless keyboard/trackpad without extra dongles, keeping things nice and tidy.
Faster ethernet
The Pi 3 B+ has significantly faster wired networking, thanks to an upgraded USB/LAN chip, and you should see speeds that are 3-5x faster than on previous models of the Pi, at least 300Mbit/s.
GPIO and layout
The GPIO header remains the same, with 40 pins, as on the previous three models of Pi. However, it should be noted that the new PoE header pins may contact components on the underside of some HATs, like Rainbow HAT. Some standoffs will prevent any mischief from occurring though!
The metal shielding on the wireless circuitry and the SoC may also cause shorts against larger components on the underside of HATs, pHATs, and SHIMs. In the first two cases, standoffs will help again; in the latter, a couple of small pieces of insulating tape or Kapton tape will prevent any shorts.