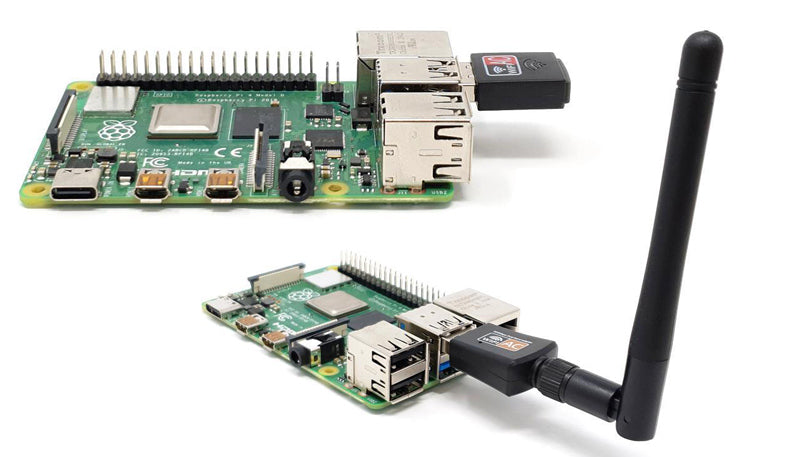 How to setup a RTL881cu USB WiFi adapter with the Raspberry Pi 4
Despite the Raspberry Pi 4 having built-in dual-band WiFi, many of our customers choose to purchase Dual-band USB WiFi adapters to improve their range or locate the ariel on an enclosure or similar.
Whilst many USB WiFi adapters are supported by drivers already installed within the Raspberry Pi OS, some newer drivers require manual setup.
Both of our dual-band WiFi adapters use the RTL881cu driver, and here's how you can get them working on a Raspberry Pi 4 (also works with the Raspberry Pi 3 - we tested it!).
Important notes
It's important to note that these instructions are working as of the very latest Raspberry Pi OS (18/09/2023) but as we have no control over Raspberry Pi OS, the kernel used or even the Github repository used in these instructions...so things may not work in the future (we'll do our best to keep this page updated with the latest working process).
We've also heard that kernel 6.2 includes support for these WiFi adapters, but we're not convinced Raspberry Pi OS will be moved to 6.2 any time soon!
The Driver Repository
We're going to be using this Github library as this was recommended by our helpful customers (see comments below) after our original instructions/library stopped working.
There are well-detailed instructions on the Github page, but we're showing you each step here to show you what worked for us, especially as (currently) some other changes are currently required to make this work on your Raspberry Pi.
Setting up a RTL881cu USB WiFi adapter with the Raspberry Pi
Turn your Raspberry Pi on, connect to WiFi, open a new terminal window and follow the steps below.
You can also plug in your WiFi USB adapter now (we had it plugged in throughout the installation and it was fine).
1. Update your Raspberry Pi
Make sure your Raspberry Pi is up to date before beginning, by using the following commands:
sudo apt-get update
sudo apt full-upgrade
2. Edit the config file
Thanks to Zach in the comments section for this. Currently you'll need to make an edit to the config.txt file on your Raspberry Pi before you attempt the driver installation (or it'll fail).
Open a terminal window and use the following command:
sudo nano /boot/config.txt
Then anywhere in that file enter the following new line:
arm_64bit=0
Then enter Ctrl+X and hit Y to save.
Now reboot your Pi with:
sudo reboot
3. Install the required software
You may already have the following packages installed, however it's best to check. Enter the following command in your terminal window and follow the promts to install any missing ones:
sudo apt install -y raspberrypi-kernel-headers build-essential bc dkms git
4. Create a directory for the driver
Create a new directory for the driver by using the following command:
mkdir -p ~/src
5. Access the directory
Access your new directory using the following command:
cd ~/src
6. Download the driver repository
Enter the following command to download the repo to your Raspberry Pi in your new directory:
git clone https://github.com/morrownr/8821cu-20210916.git
7. Access the downloaded repository
Enter the following command to access the downloaded driver repository:
cd ~/src/8821cu-20210916
8. Run the driver installation
Use the following command to install the driver:
sudo ./install-driver.sh
At the end of the installation it will ask you if you want to edit the setup file. Whilst it recommends this, we chose not to and everything worked fine. If you have a specific use case for the driver/dongle, you may want to have a dig around this.
9. Reboot
Reboot your Raspberry Pi using the following command, and once you've booted back up you should be able to select the WiFi icon on the Raspberry Pi desktop and see two instances available (the built-in WiFi and the dongle adapter):
sudo reboot