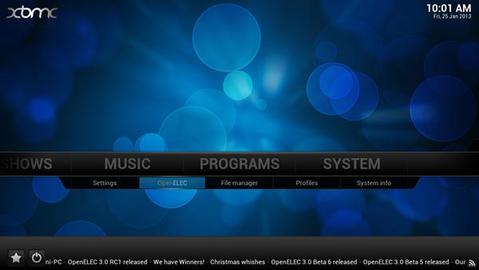 How to setup WiFi on the Raspberry Pi - OpenELEC XBMC
In this tutorial we will show you how to setup WIFI on the Raspberry Pi. This particular tutorial will be focusing on the OpenELEC XBMC operating system. Tutorials for other Raspberry Pi operating systems, such as Raspbian, RaspBMC and Arch can be found below:
How to setup WIFI on RaspBMC
How to setup WIFI on Arch
Setting up WIFI in OpenElec XBMC for the Raspberry Pi is very simple. At the menu, head to Programs, and then down to "OpenELEC"
All of the details in the "network" tab will need to be filled in. On a Windows PC - run "ipconfig /all" in cmd to get the network gateway and DNS settings.
The remaining settings - all filled in

This guide has been written and tested using one of the WIFI adapters sold in our store.
While you're here, why not check out the WiFi dongles we have available..