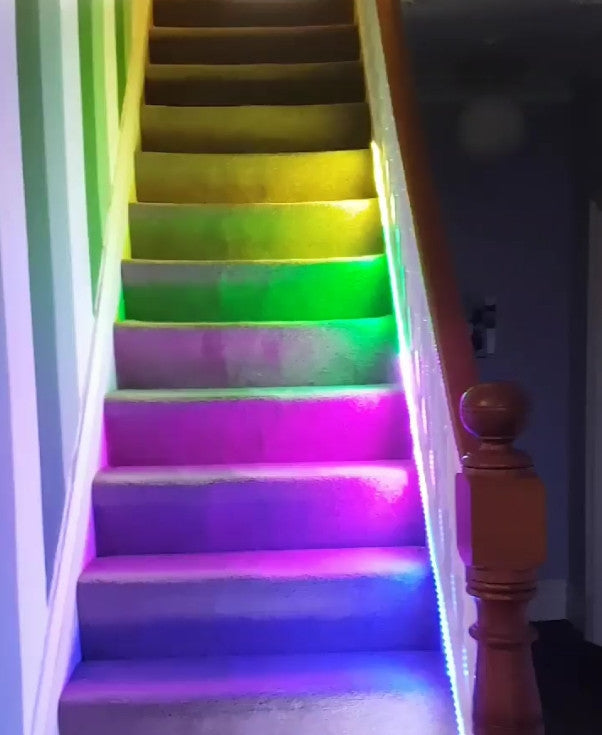 Raspberry Pi Roundup - a set of stairs lit by neopixels, a fundraiser for a special school and videos from the Pi Party!
Neopixel Stairs
CAS co-ordinator Lorraine Underwood wanted to add some bling to her staircase. So she turned to a strip of Neopixel-type LEDs and a Raspberry Pi Zero. She added a weather feed so that different parts of the staircase light up depending on the weather outside. To find out how she did it, and to see a complete list of parts that make up the project, visit her blog.
School Fundraiser
Teacher Hannah Mills from Peterborough-based Marshfields School is running a Just Giving campaign to raise £1000. The £1000 will be used to purchase pi-topCEEDs to be used in class and after school to increase accessibility to physical computing. Marshfields is a special school catering for those with special educational needs and Hannah feels that the pi-topCEEDs are the best way to go to meet their needs, and I have to say I agree – quick set-up, easy access to the GPIO and lots of in-built child-friendly activities. Take a look at the campaign here and be generous if you can be!
Birthday Party Videos
David Ferguson attended the Raspberry Pi Big Birthday Weekend (Pi Party) this year and recorded many of the talks taking place in the auditorium. He's uploaded all the videos to YouTube, and listed a couple of others by Alan O'Donohue, and created a playlist of them. View the playlist here. Great if you weren't able to attend some, or all, of the talks – Thanks David & Alan!