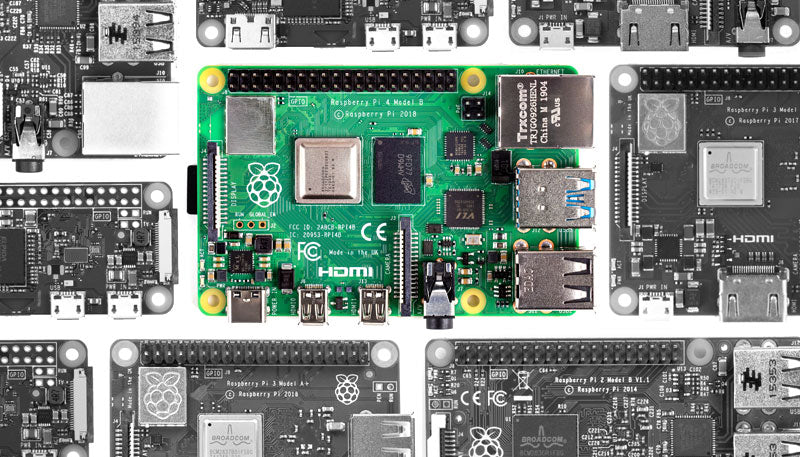 Raspberry Pi Models
With a long history of previous boards, and a wider range of newer boards to choose from, selecting a Raspberry Pi can sometimes be a little confusing for new users.
We've put together this article and a handy table to help you decide!
Raspberry Pi Formats
Raspberry Pis come in three different formats:
Model B - these are the 'full size' boards which include Ethernet and USB ports
Model A - these are the square shape boards. Consider these a 'lighter' version of the Raspberry Pi - usually with lower specifications than the headline Model B, with less USB ports and no Ethernet, however at a lower price.
Zero - the smallest Raspberry Pis available. Zeros have less computing grunt than the Model B, but use a lot less power as well. No USB, no Ethernet, just a nice small package!
Most Recent Boards
For the formats mentioned above, the most recent boards are as follows:
Raspberry Pi 4 Model B
The Raspberry Pi 4 is an incredible improvement on previous boards.
The latest model of our favourite single-board computer includes great new headline features such as dual 4K displays, super-fast USB 3.0, Gigabit Ethernet, WiFi, Bluetooth and different RAM options.
The Raspberry Pi 4 ships with a new 1.5GHz Quad-core CPU, offering around a 3x improvement in performance over the previous model! Backing up that processing power is up to a whopping 4GB of faster LPDDR4 RAM.
With this new level of hardware, the Raspberry Pi 4 truly is a viable dual-display desktop computer.
Raspberry Pi 3A+
The Raspberry Pi 3 Model A+ is the latest product in the Raspberry Pi A format, weighing in at just 29g and boasting the same specs as a Raspberry Pi 3B+: a 64-bit quad core processor running at 1.4 GHz, dual-band 2.4 GHz and 5 GHz wireless LAN, and Bluetooth 4.2/BLE.
The smaller format is handy for embedding into smaller low-profile projects, however at the cost of the additional USB ports and Ethernet connection compared to the Model B.
Raspberry Pi Zero W / WH
An ultra low cost, and ultra "cut-down" variant of the Raspberry Pi Model B. If you have some experience of the Raspberry Pi, then the Raspberry Pi Zero W is the latest version in the Zero family. The Raspberry Pi Zero W features an unpopulated GPIO header (WH = with populated header), and only one OTG micro-USB input for peripherals.
The Zero is designed for embedded applications, wearables & prototyping. It's slower than the other current Raspberry Pi boards, featuring a 1GHz single core processor and 512MB of RAM.
We recommend that some experience with the Raspberry Pi Model B family is required before progressing to the Raspberry Pi Zero.
Comparison Chart
If you'd like to learn all about the different revisions of Raspberry Pi manufactured since its conception, then it's all detailed in our Raspberry Pi Comparison Chart below! Note: Update pending!
Model B Family Photos
Raspberry Pi Model B
Raspberry Pi Model B+
Raspberry Pi 4 Model B
Model A Family Photo's
Raspberry Pi Model A
Raspberry Pi Model A+
Zero Family Photo's
Raspberry Pi Zero v1.2
Compute Module Family Photo's
Compute Module
Compute Module 3+ and 3+ Lite
The new Compute Module 3+ comes in 4 different varieties: