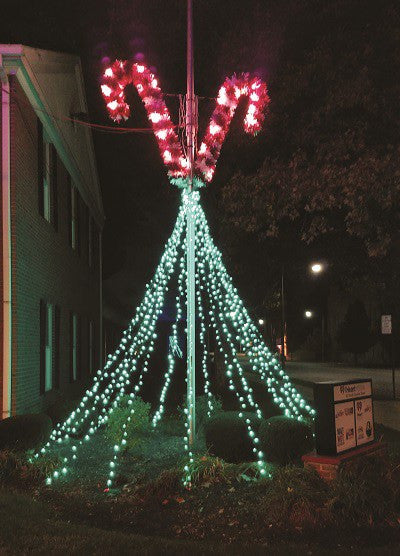 Christmas lights, a long time-lapse, a NERF gun and a retro gaming Kickstarter in today's Raspberry Pi Roundup
Christmas Light Show
Alec Connolly, who attends the University of Toledo majoring in electrical engineering, has recently been interning at a company called iHeartMedia. He was tasked by one of the directors with creating a Christmas light show that would sync with their radio station, WRVF(FM), "101.5 The River". So he took a Raspberry Pi 2 (well, actually, from the images here it looks like he used an original model Pi, but I could be mistaken), some relays and some strings of multi-coloured LEDs and set to work. He used a piece of software called LightShow Pi to do the audio-to-light pattern conversions. They now have two different displays at two offices. You can read more here and see a demo on YouTube.
Wheel of Timelapse
James Mitchell over at Raspberry Jam Berlin has been trying for the past two years to get a timelapse recording of a Ferris Wheel being constructed outside his office. Well, he's finally managed it! (see above – leave him a thumbs-up and comment on YouTube!). He's blogged about his trials and tribulations with the project and covered things like defeating reflections and flipping the image to the right orientation and you can read all about it here.
Nerf Gun
The guys over at YouTube channel Hacker House have used a Raspberry Pi as the brains behind a motion tracking, nerf gun turret. They've published a video which shows you how to build the turret and install the software. There are copious notes attached to the video including a full bill-of-materials. This is a great maker project because it brings together electronics, woodwork, programming and 3D printing! Take a look at the video above and visit YouTube for the notes.
Retro Gaming Kickstarter
Recently announced on Kickstarter, the Raspi Boy is a handheld, battery-powered, Raspberry Pi-driven retro gaming console. It comes as a pre-soldered kit to assemble, with a moulded case and custom circuit board. It doesn't come with a Raspberry Pi Zero due to the lack of availability of multiple units, however you can buy one from us! You can find out more by watching the campaign video below or by visiting the Kickstarter campaign page.