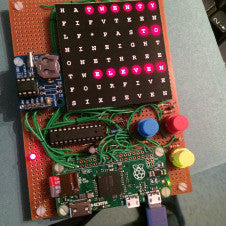 Raspberry Pi Roundup - 20th January 2016
Word Clock
David Saul set himself a project over Christmas: a 'word clock'. For this, he used a Raspberry Pi Zero and a MAX7219 chip. A 'word clock' is a clock made up out of a 'crossword' of words under which lights are placed to illuminate the correct columns and rows necessary to give a readout of the time. You can see the results of his work, including some detail of how he did it here.
Auto-run
Matt Hawkins has documented the new way of getting boot-time scripts to run. On the Jessie version of Raspbian, instead of using /etc/rc.local like you used to on Wheezy, you now have to use something called 'systemd'. Read how to do it here.
Events
Two UK-based events to tell you about today.
This week (20th-23rd) the Raspberry Pi Foundation will be attending the huge Bett education exhibition at the ExCel in London. On Saturday 23rd, they are holding their very own Raspberry Jam in the "Technology in HE Summit Space". If you want to attend the Raspberry Jam, get your free ticket here. To attend anything, you will also need to register for Bett itself. You can do that on the Bett website.
Next up, we have the first Raspberry Jam to be held in Kent on 30th January. It will be held at the Gravesend Old Town Hall on the High Street from 10am-1pm and will feature workshops, including Sonic Pi, and talks including details of the recent International Space Station Astro Pi mission. For more details, and to get free tickets, go to this page.
Audiophile
Trevor Appleton has written a great tutorial about using the Volumio operating system to create a music player with a Raspberry Pi. This is a great piece of software and easy enough to get going. If you're an audiophile, you can use it with the excellent HATs sold by IQaudIO which give you superior sound quality from the Pi. Read Trevor's tutorial here.