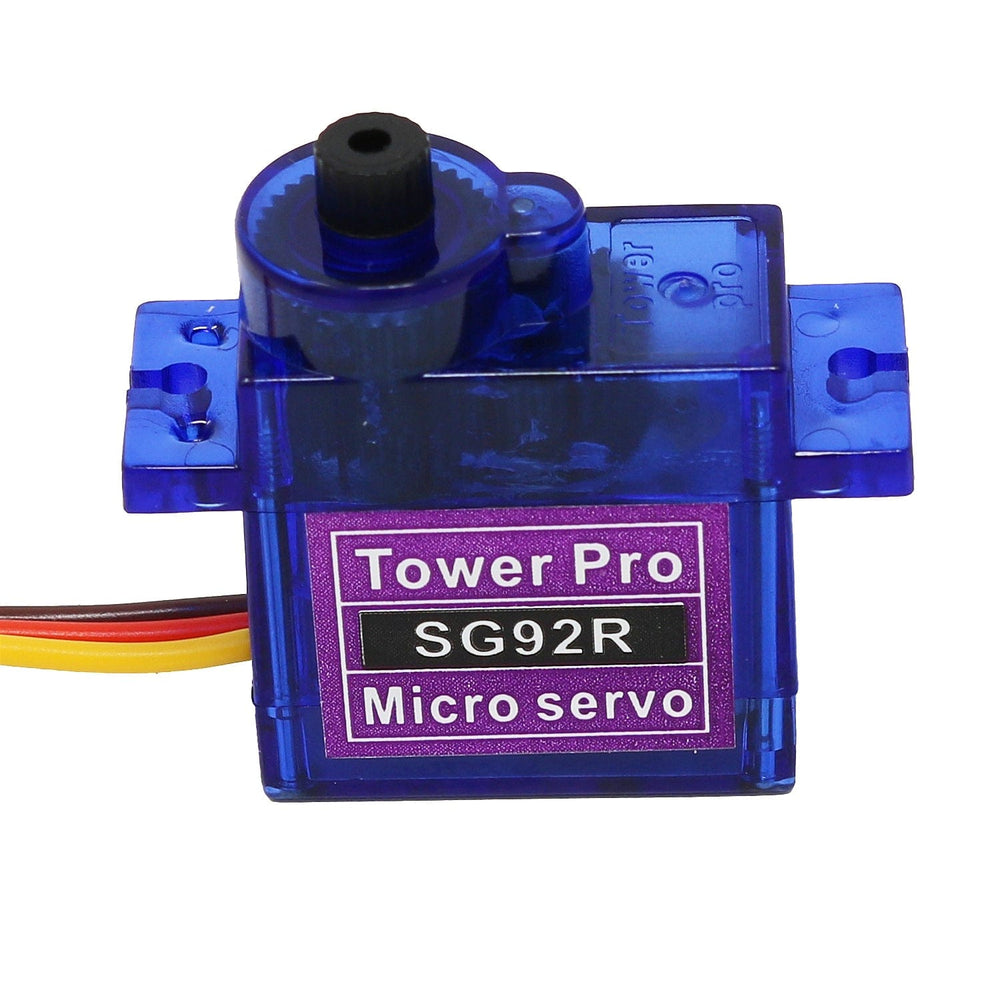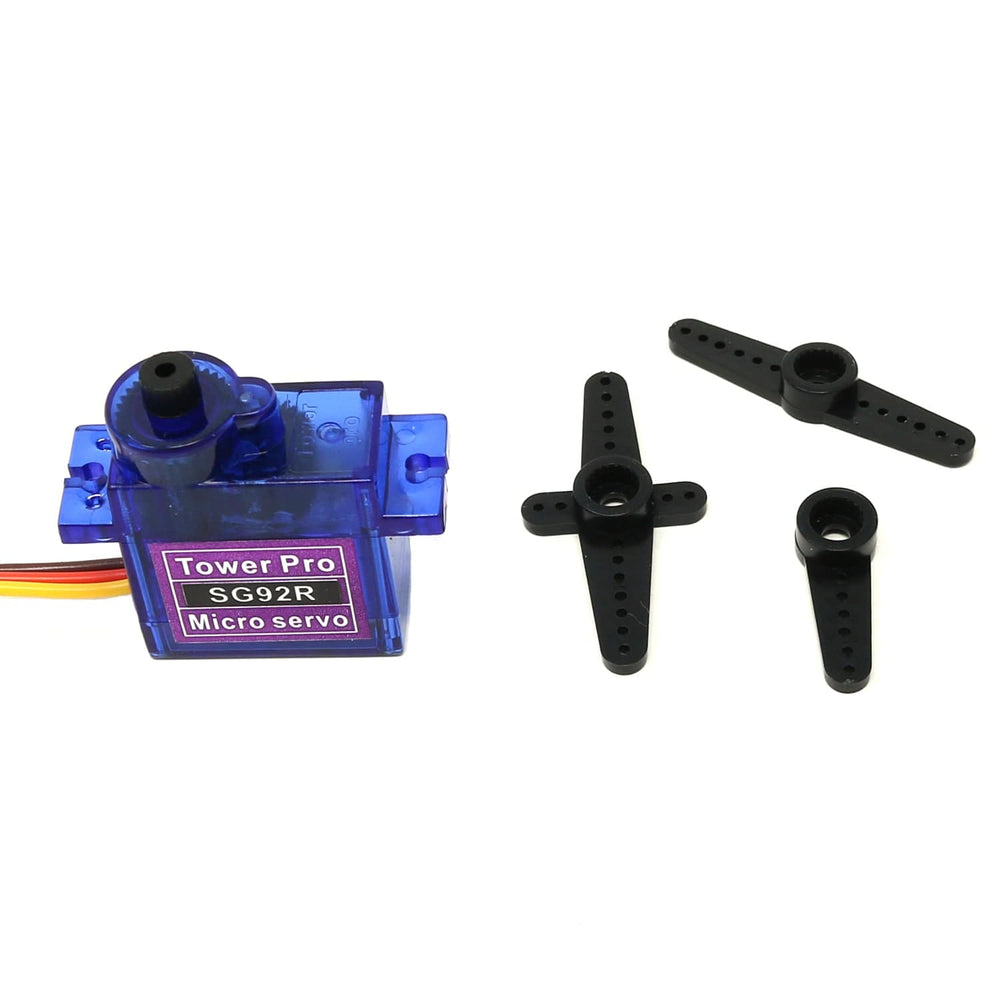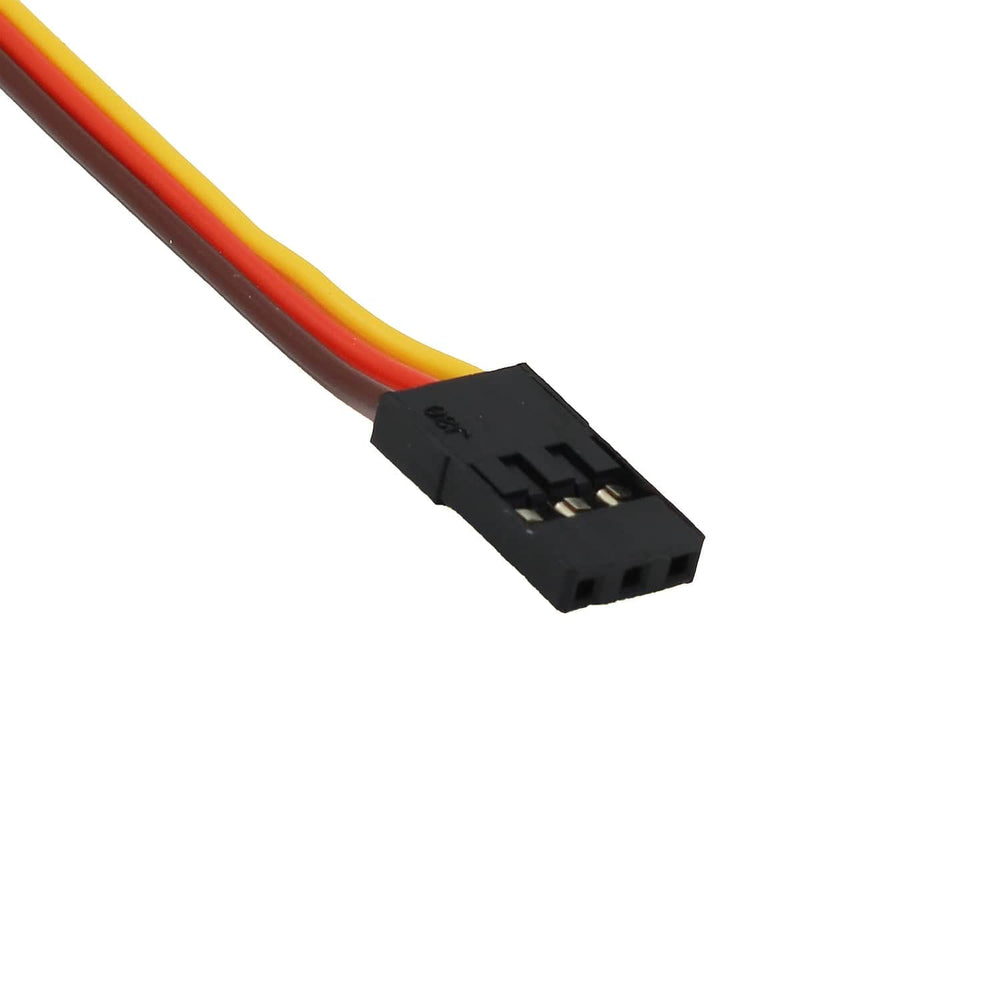 The TowerPro SG92R micro servo! This is the latest version of the SG90, and features carbon fiber gears and control arms resulting in a massive 2.5kg torque, but just 9g of weight!
The SG92R can rotate approximately 180 degrees (90 in each direction), and works just like a standard servo!
The unit comes complete with 25cm wire and 3 pin 'S' type female header connector that fits most receivers, including Futaba, JR, GWS, Cirrus, Blue Bird, Blue Arrow, Corona, Berg, Spektrum and Hitec.
They work great with our UltraBorg servo and ultrasonic control board, and other Raspberry Pi Motor Controllers. They're also great for the Arduino Motor Shield - or simply by wiring up Arduino with the Servo library. You can use any servo code, hardware or library to control these servos, so it's great for beginners who want to make stuff move without building a motor controller with feedback & gear box, especially since it will fit in small places.
Towerpro Servo's comes with a selection of arms and hardware to get you set up nice and fast!
SG92R Micro Servo Features:
Micro Servo - Like a Standard Servo but Smaller!
Genuine TowerPro Product
Carbon Fiber Gears and Control Arms
Holding Torque: 2.5kg/cm @ 4.8V
Operating Voltage: 3.0 to 7.2 Volts - Optimal 4.8V
Operating Speed 60/0.1 degree/second (No Load @ 4.8V)
Temperature Range -30? to 60?
Dead Band Width 10us
25cm Wire, Servo Arms & Screw Included
Weight: 9g
Wiring Guide:
Red: Battery Positive
Brown: Battery Negative
Orange: Signal
To control with an Arduino, we suggest connecting the orange control wire to pin 9 or 10 and using the Servo library included with the Arduino IDE (Example Sketch). Position "0" (1.5ms pulse) is middle, "90" (~2ms pulse) is all the way to the right, "-90" (~1ms pulse) is all the way to the left.
Tutorials