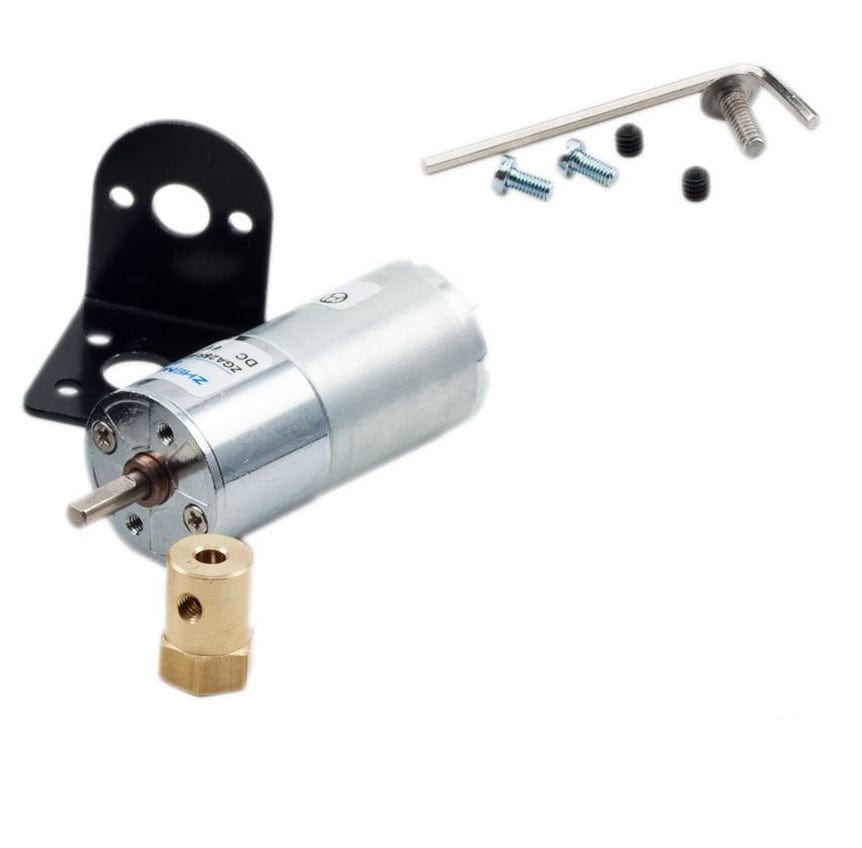 Want to build a Raspberry Pi rover, but need something with a little more oomph! These heavy duty, all metal geared 6V 60RPM DC motors are perfect for Raspberry Pi Rover designed to traverse rough terrain! Each kit comes complete with all the mounting hardware required to get you revving in no time: 1 x 6V 60RPM DC Motor with all meatal gearing, 1x 25mm mounting bracket, 1 x 4mm coupler in addition to all the screws required to put it all together! The wheels are available separately in different colours, so you really can pimp your Pi!
Features
1 x 6V 60RPM DC Motor with integrated gearbox (metal gearing)
1 x 4mm Coupler
1 x 25mm Mounting Bracket
Assorted bolts for assembly
Bracket mounting hardware not included e.g. what you use to fix the bracket to your project.
Specification
Voltage VDC: 6V
No Load Speed: 60RPM
No Load Current: 0.03A
No Load Torque: 0.035kg/cm
Rated Speed: 46RPM
Rated Current: 0.22A
Rated Torque: 0.91kg/cm
Full Load Speed: 11RPM
Full Load Current: 0.5A
Full Load Torque: 2.2kg/cm
Full Load Power: 0.66W
Motor ID: ZGA25RP71i
Motor Dimensions: 53mm x 25mm x 25mm
Tutorials
6V 60RPM Motor, Wheel, Coupler & Mount Assembly Guide
Information