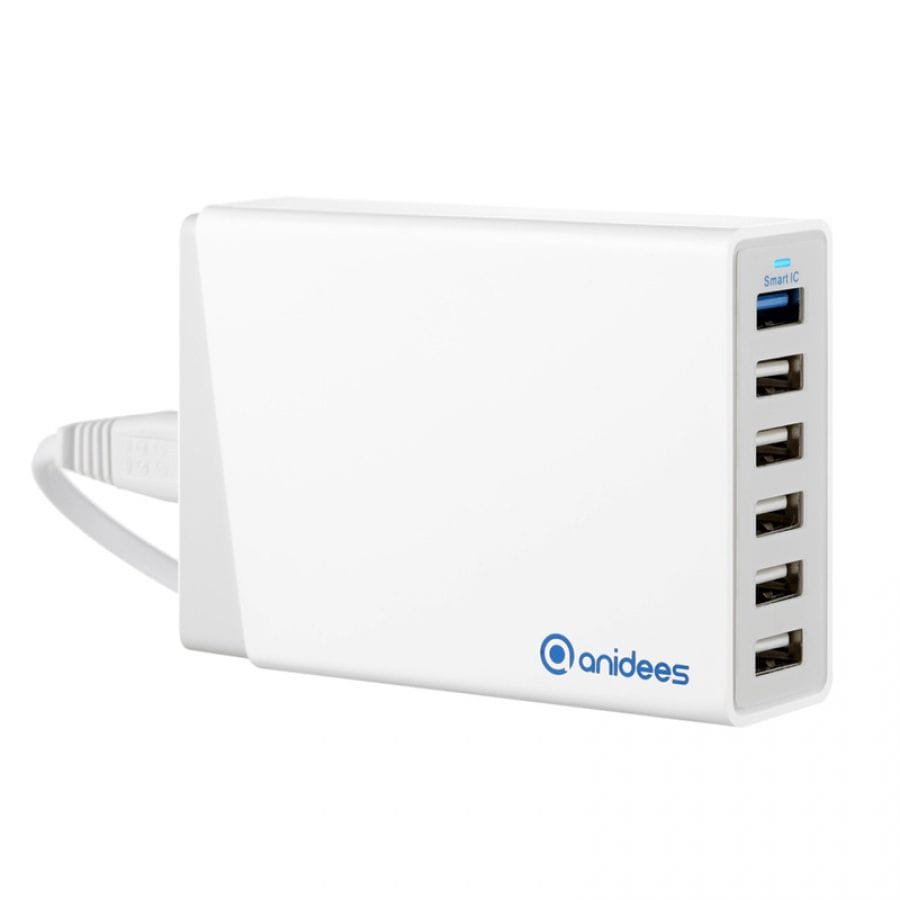 If you've got a stack of Raspberry Pi's and not enough wall space to plug all those pesky power supplies in, we have the perfect solution to neaten it all up! Powered by SMART IC, the Anidees 60W 6 Port USB hub takes up just one wall plug, but outputs up to 3A per USB slot (Max 12A Total).
If you want the ultimate solution checkout our Cluster Case with fans, and our on/off USB to Micro-USB cables.
Please Note. This products comes with a UK Power Adaptor Cable. The hub input is C7, known as Figure of 8, and EU/US customers will need to purchase the correct type separately (EU / US).
Features
Powered by SMART IC, anidees USB Charger equipped with 6 ports that automatically identify your devices, and maximize charging speed
Support quick charge 5V/2.5A, 9V/1.8A, 12V/1.35A on USB port 1 (Blue Color).
Rapid charger: 6 high-power USB port up to 3A to complete charge fast.( Max 12A)
Multiple protection system to ensure device safety:

Voltage control
Current control
Temperature Control

AC 100-240V input voltage ideal for international travel
1.5m Detachable Power Cord UK
Compact and Stylish
6 USB Port
Specification
Colour: White
Material: Plastic
Power Input: AC 100-240V
Power Output:

DC USB*6 5V/12A (max)
USB1 5V/3A (max), 9V/1.8A & 12V/1.35A
USB2 5V/3A (max)
USB3 5V/3A (max)
USB4 5V/3A (max)
USB5 5V/3A (max)
USB6 5V/3A (max)

Dimensions: 100mm x 69mm x 26mm
Weight: 186g