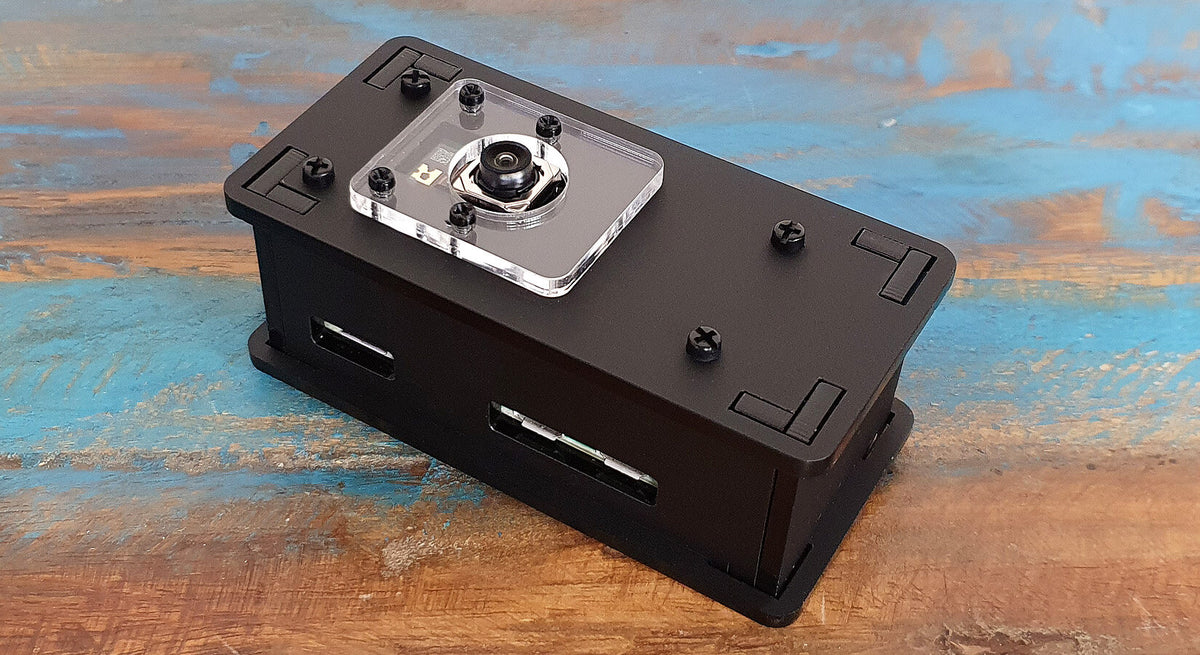 Raspberry Pi Zero Camera Case Assembly Instructions
This guide will show you how to assemble the Raspberry Pi Zero Camera Case. All you'll need is a simple cross-head screwdriver (If you have the Raspberry Pi 4/3 version of this case you'll want this guide instead).
Please note: the camera panel of this case has been revised slightly to accomodate the new Camera Module 3, so your panel may look ever so slightly different to the images below (but the process is the same).
Step 1 – Snap the acrylic parts out of their holders and peel the protective film off of both sides of all layers then clean off any dust.
Step 2 – We'll get the fiddly part out of the way - push the thinner four screws through the clear lens protector (don't add any nuts yet):
Step 3 – Place your Raspberry Pi Camera on the other side and lock into place with 4 nuts. Don't worry if you have left-overs, we included extras in your pack of parts.

Step 4 – Use 4 M2.5 screws to secure the smaller M/F standoffs to the base layer of the case. (Important! If you're mounting this case to a wall using one of our wall mounting brackets you'll want to quickly check out this guide)
Step 5 – Add your Raspberry Pi Zero and follow up with the tall F/F standoffs. 

Step 6 – Now is a good time to connect your Raspberry Pi camera ribbon cable, make sure you have it connected the right way around (matching our image below)
Step 7 – Pit stop! Above is a handy photo to show you how the side panels will slot together. Each panel with have a slightly bumpy set of feet (from where we snapped them out of the panels), fear not - these go into the base so won't be seen.
Step 8 – Slot your side panels into place one by one and place the lid on top. You will have 4 remaining M2.5 screws to lock this into place. Job done!