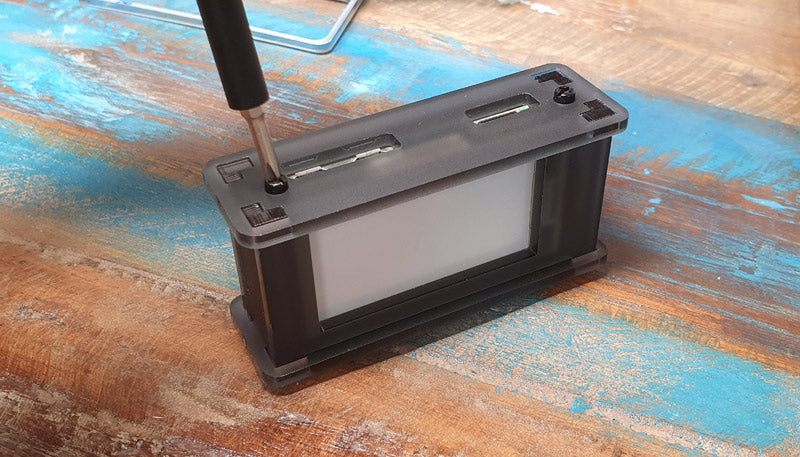 Pi Zero Case for Waveshare 2.13" eInk Display Assembly Instructions
This guide will show you how to assemble the Raspberry Pi Zero Case for Waveshare 2.13" eInk Display. All you'll need is a simple cross-head screwdriver.
Step 1 – Grab your parts! You should find 2 perspex layers and a small bag of fixings.
Step 2 – Snap the acrylic parts out of their holders and peel the protective film off of both sides of all layers then clean off any dust.

Step 3 – With the USB symbol facing towards you, secure the 4 screws in place with the nuts provided

Step 4 – Place your Raspberry Pi Zero on top, make sure the USB ports are on the same side as the symbol (ie facing you) and use the remaining 4 nuts to secure.

Step 5 – Add your Waveshare 2.13" eInk Display on top of your Raspberry Pi Zero

Step 6 – With the SD card symbol facing to your left, attach the two male/female standoffs using two more screws and then add the two female/female standoffs on top.
Step 7 – Pit stop! Here's a handy photo to show you how the side panels will slot together. Each panel with have a slightly bumpy set of feet (from where we snapped them out of the panels), fear not - these go into the base.
Step 8 – Slot your side panels into place one by one.
.
Step 9 – Now add the lid into place and secure with the remaining two screws 
Step 10 – Flip the case over and add your rubber feet - we've added handy semi-circles that you can see through the case to help align your feet. Job done!