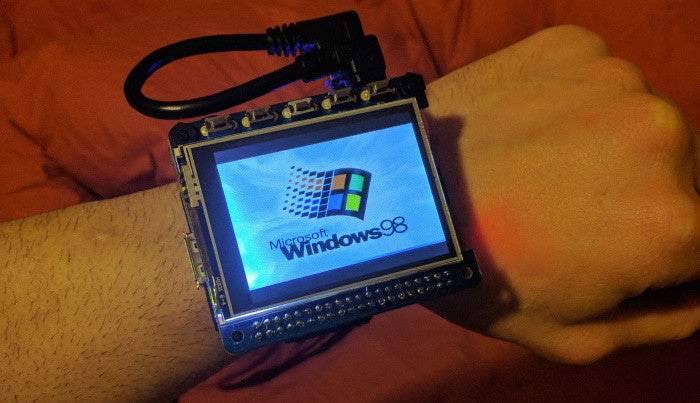 Raspberry Pi Roundup with a Windows 98 watch, a couple of events in Berlin and an external antenna for the Pi Zero W
Windows 98!
Over at 314Reactor, one ingenious maker has taken a Raspberry Pi A+ and created his very own smart watch running Windows 98. He uses the emulation software QEMU to run the operating system, a small TFT screen to display it and a LiPo battery to power the whole thing. I'm not too sure about strapping a LiPo to my arm, though! It's ingenious, although he does admit that it's as slow as a very slow thing. Read how to do it yourself here.
Berlin
James Mitchell has announced the launch of Berlin's very first Tech Jam, on 1st April. At the event, there will be workshops, talks and a sharing of projects. The Jam is an all-inclusive event aimed at parents, teachers, students, makers, families… basically anyone interested in looking at and learning about tech. It's a platform-independent event, not just Raspberry Pi, and has a special emphasis on open technology. The event runs from 12-6pm at Technische Universität Berlin Marchstr. 23, 10587 Berlin. If you want to contribute to the event in any way, from showing a project, to helping with a workshop, to being a marshal, email raspberryjamberlin@gmail.com and James will get back to you. Tickets are available from Eventbrite via the Raspberry Jam Berlin homepage.
External Antenna
Brian Dorey noticed that there were three unpopulated pads on the Pi Zero W near the zero-ohm resistor and realised what it was for – to place a U.FL RF connector. This connector allows you to add an external antenna to the Zero W and increase its wireless range. By moving the resistor so that it connects to the pads, it disconnects the internal antenna and allows you to add your own. He's written the modification up on his blog and you can read that here. Obviously, doing this will void your warranty and will make it hard to reverse the action, but as long as you're aware of that, that's fine!