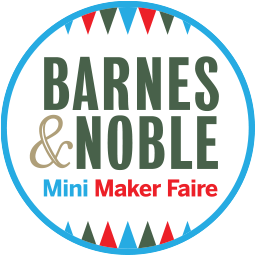 Raspberry Pi Roundup - 6th November 2015
Jam USA
Tomorrow (November 7th) at 2pm, at Barnes and Noble stores across the USA, Mini Maker Faires will be popping up. As part of the Faire, at several of the stores, Raspberry Jams will also take place. Here is the current list of stores with Jams:
5604 Bay Street, Emeryville, CA
1217 Caroline Street, Atlanta, GA
5601 Brodie Lane, Austin, TX
800 Boylston Street, Boston, MA
728 Waukegan Road, Deerfield, IL
Eton Chagrin Boulevard, Woodmere, OH
9370 Sheridan Blvd, Westminster, CO
River Oaks, Houston, TX
1701 Mallory Lane, Brentwood, TN
33 E 17th St, New York, NY
10509 Gravelly Lake Dr. SW, Lakewood, WA
1780 North Woodland Park Drive, Layton, UT
12193 Fair Lakes Promenade Drive, Fairfax, VA
7620 Rivers Avenue, North Charleston, SC
You can get involved too. If there is a B&N near you without a Jam, and you want to run one, contact your store's Community Relations Manager to let them know you'd like to participate. To find a Jam near you, you can always consult the central Jam map!
Grabby
Dr. Prateek Tandon from Carnegie Mellon University has a PhD in Robotics and he is not afraid to use it. He has built two robotics projects that feature extra hands. The first (pictured above) has two large robotic arms that project from a backpack (read more here). The second (pictured below) has pincers attached to an armband to give you extra grippers (read more here).
Letting it Go
Ryan Walmsley of Ryanteck has just launched a new crowdfunding campaign on IndieGoGo. This one is a soldering kit in the shape of a snowman! Very cute. Earlybirds (there are still some left) are £5 + shipping, with the price then rising to £6 + shipping when they've gone. The kit comes with everything you need including the LEDs, GPIO header and a resistor ladder. Ryan is hoping to deliver before Christmas, so get yours here now. Well worth the money and a great starter kit for soldering beginners too.