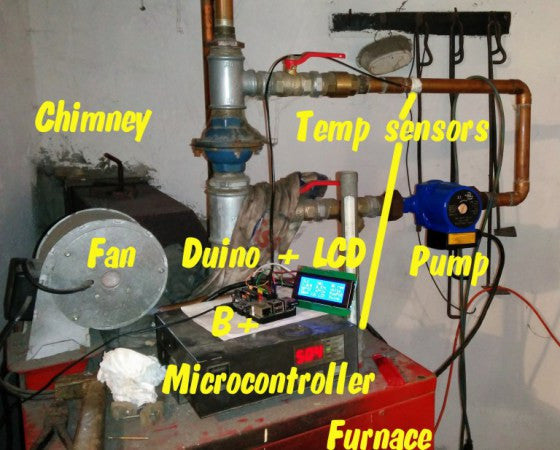 Raspberry Pi Roundup - 3rd May 2016
Heating system
Alex Eames owns a house in Poland with a heating problem: the furnace and the general system are like something out of the stone age and Poland, being the way it is, is often very cold. So, he's brought a bit of Raspberry Pi and RasPiO Duino know-how to the situation to allow him to monitor the coal-fired furnace and room temperatures. He hopes to eventually have a fully-fledged heating controller system with multiple room monitoring. Read and see how he's done all this here.
Clamshell
Chris Robinson from NODE has taken a Raspberry Pi 2 and adapted it to fit into a hard drive enclosure. He added a screen, a battery and a mini keyboard, together with some other parts, and created this Nintendo DS-style portable computer. Great work. You can see a gallery of images from the build (and instructions) over at Imgur.
Book scanner
Following the lead of a Dean from an Ethiopean university, who could see that the high cost of textbooks was holding back developing world countries, a group has got together to build a €500 book scanner that turns the pages via a vacuum. This new method differs from the 'normal' method of doing it by removing the binding of the book and, potentially, destroying the volume. You can read more on their Hackaday project page
Car Parking
Humphrey Shotton and Nicholas Sanders identified that one of the causes of pollution in cities is that hundreds, possibly thousands, of cars routinely search for a parking space during morning rush hour. To help with this, they've developed a system which uses a Raspberry Pi and camera to find empty spaces and then relay that information to a central server. By using multiple Pi monitoring units, they can build up a picture of each car park and give valuable information to drivers. Read more on their Github repository.