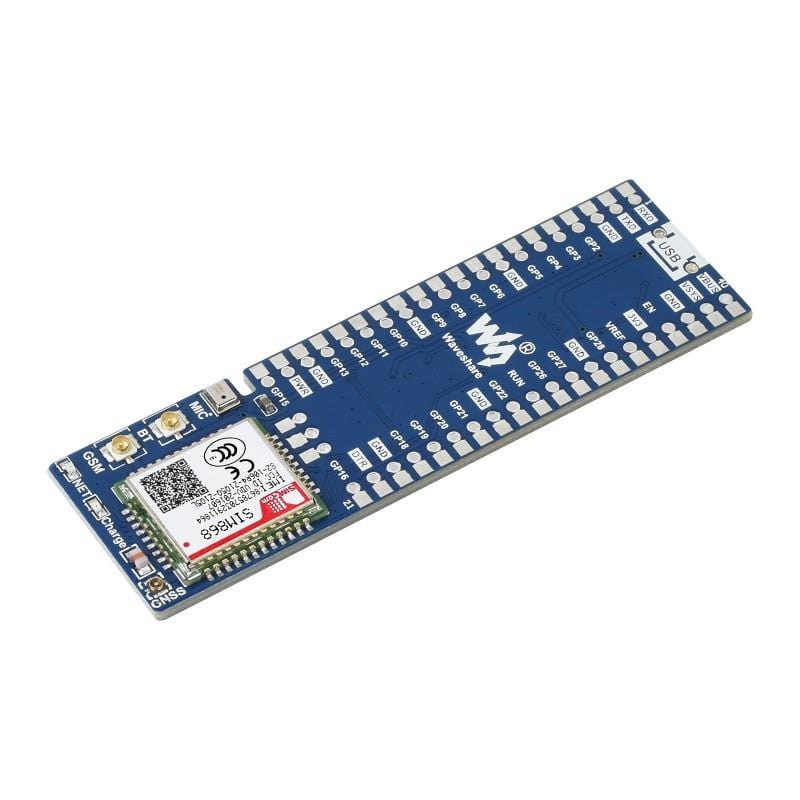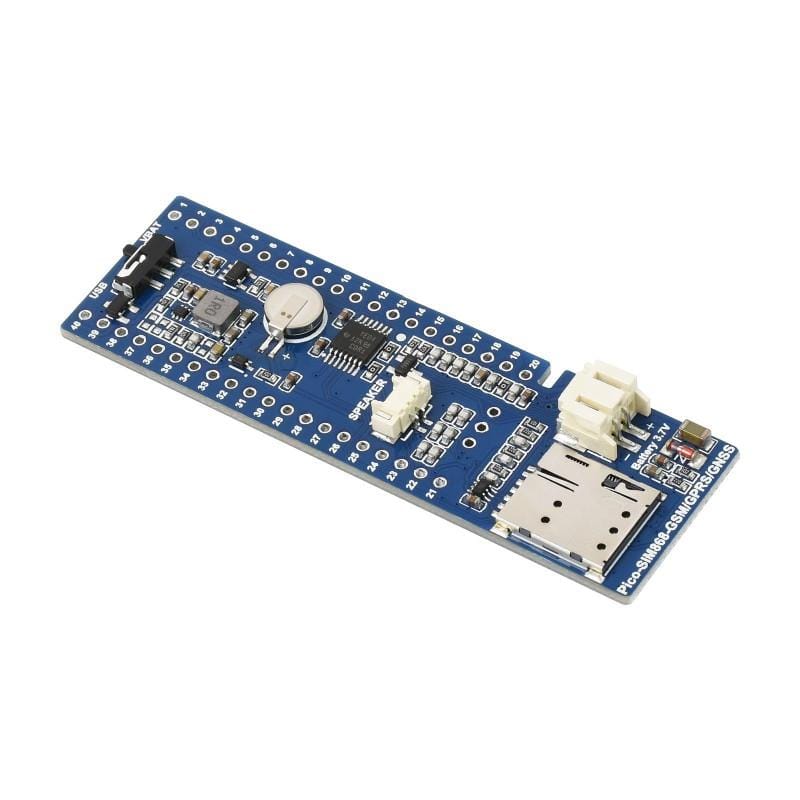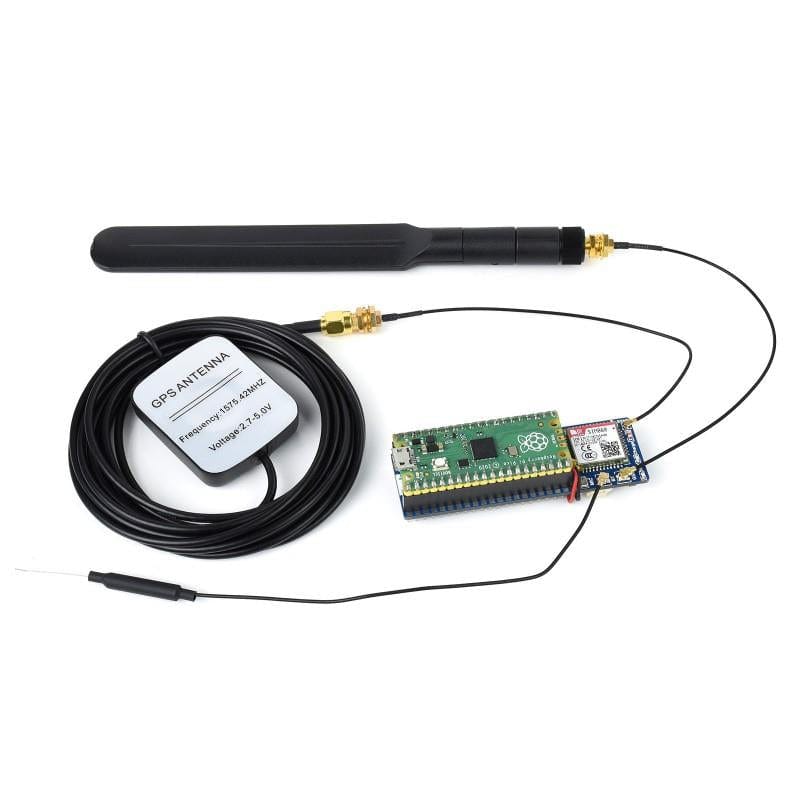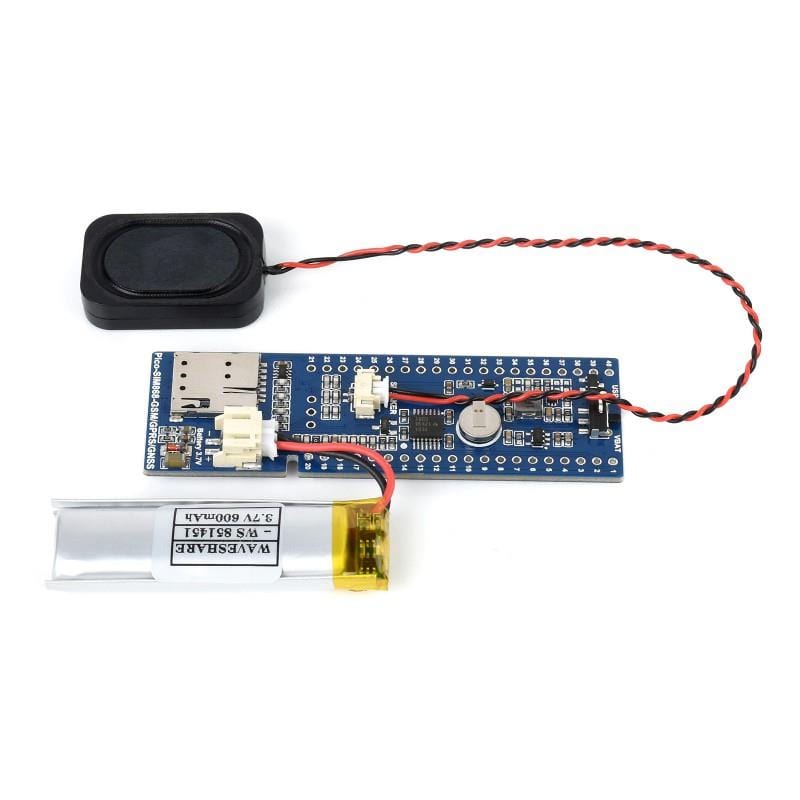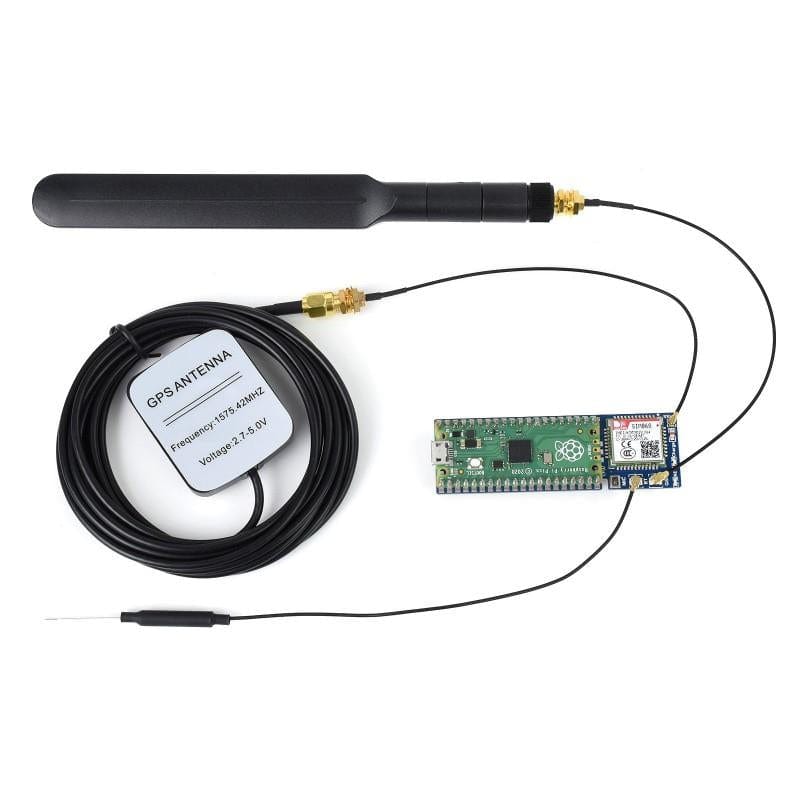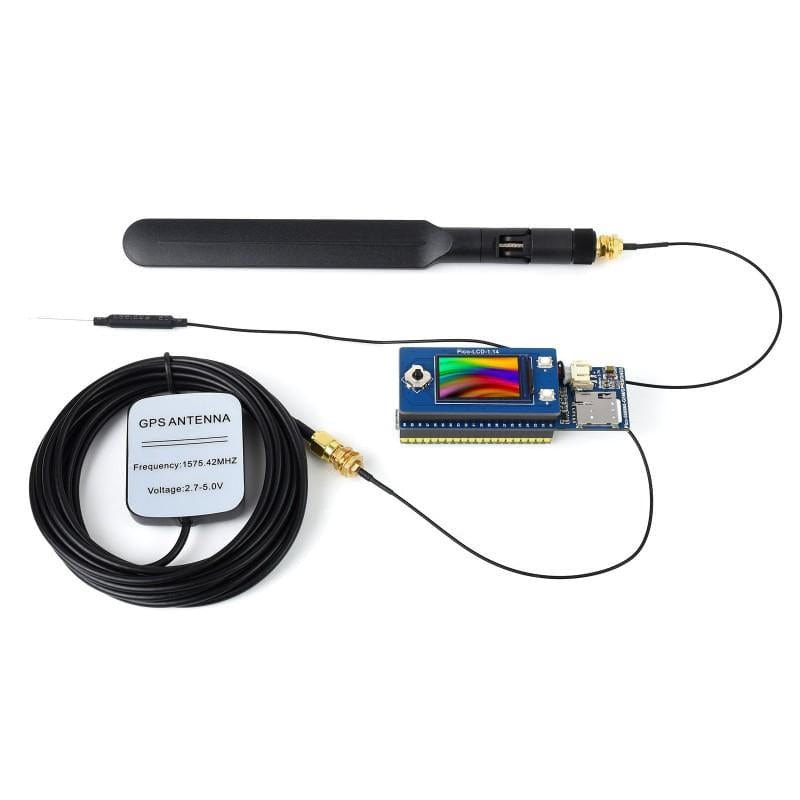 The  Pico-SIM868-GSM/GPRS/GNSS is a GSM, GPRS, GNSS, and Bluetooth module designed for Raspberry Pi Pico. This small size and low power module will easily enable your Raspberry Pi Pico functions such as making phone call, sending SMS messages, 2G communication, global positioning, and Bluetooth communications.
A Raspberry Pi Pico is not included - click here if you'd like to buy one . Your Pico will need to have male headers soldered to it with the pins pointing downwards (or grab one of our Pre-soldered Picos ).
Features
Standard Raspberry Pi Pico header, supports Raspberry Pi Pico series boards
UART communication, serial AT commands control
Supports SMS, phone call, GPRS, DTMF, HTTP, FTP, MMS, email, etc.
Bluetooth3.0 support, allows Bluetooth data transfer
RTC real time clock, with rechargeable Li-po battery
Integrates 3.7V Li-po battery connector and recharging circuit
Onboard microphone can be used to make phone call when paired with an external speaker
2x LED indicators, for monitoring the module operating status
Onboard nano SIM card slot, supports 2G/4G SIM card *
Comes with development resources and manual (Raspberry Pi Pico C/C++ and MicroPython examples)
* depending on the local network service provider.
Package Contents
1x -Pico-SIM868-GSM/GPRS/GNSS
1x - LTE antenna
1x - GPS antenna
1x - Bluetooth antenna
1x - 20PIN female pin header
1x - 40PIN male pin header
1x- 3.7V rechargeable Li-po battery
1x- Speaker
Resources
Specifications
Frequency band
NB-IoT

N/A

Cat-M
N/A
2G

GSM 850/EGSM 900/DCS




1800/PCS 1900 MHz

GNSS

GPS, GLONASS, BeiDou

Data Rate
NB-IoT

N/A

Cat-M
N/A
2G

85.6(DL)/85.6(UL)

Other

Communication Protocol

TCP/UDP/HTTP/SSL/FTP




/POP3/SMTP/MQTT,

Power Supply

External Li-po battery OR Raspberry Pi Pico USB port

Battery Interface

3.7V ~ 4.2V

Logic Level

3.3V

Idle Mode Current

12mA

Sleep Mode Current

0.65mA

PSM Mode Current

8uA

Audio input/output

Onboard microphone, with speaker header

Status Indicators

NET: network indicator
Charge: recharge indicator

SIM card

2G SIM card (1.8V / 3V)

Antenna Connector

LTE、GNSS、BT

Dimensions

76.15 × 24.00mm
Connection Examples
The Pico Can Be SMD-Mounted (Left), Or Attached Via Female Header (Right)
Pinout
Dimensions