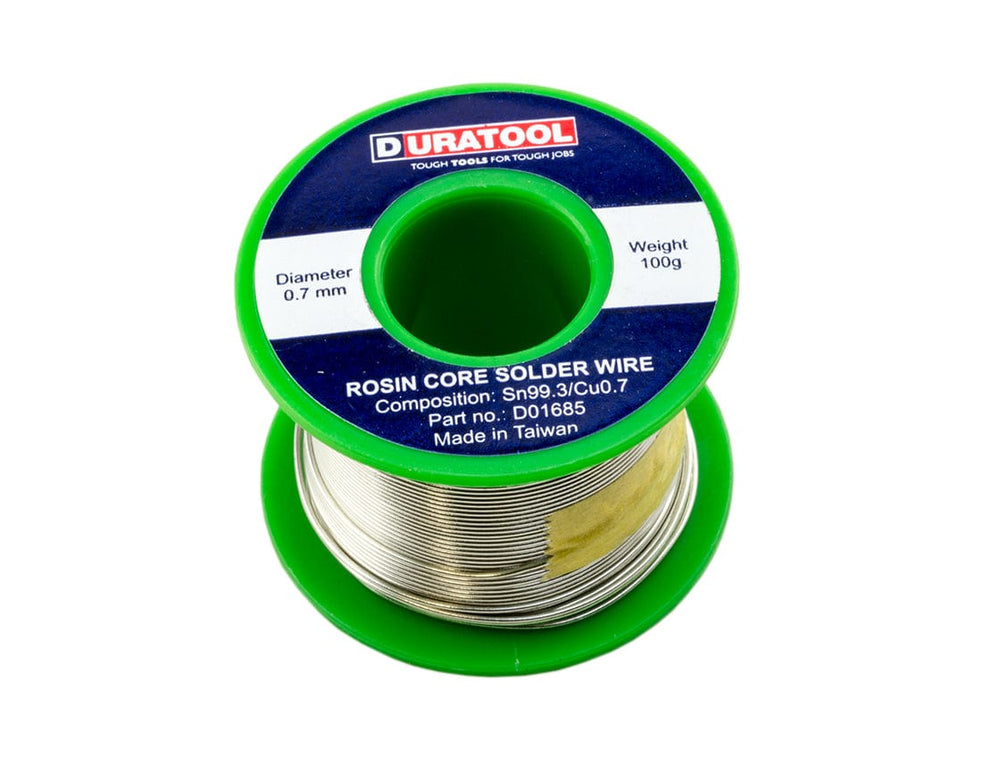 Everyone needs solder, and this is the lead free stuff (safety first!), so there's less of those nasty chemicals that the 60/40 stuff produces! See below for a more thorough explanation; it's slightly harder to work with, but safer if you're going to be handling solder a lot.
0.7mm Diameter Standard Lead Free Solder, which is perfect for electronics work. Rosin Core means less mess, and this 100g spool will last you for months so you won't run out in the middle of your project!
Features
Excellent solder joint reliability.
Superior joint strength.
Excellent thermal & Mechanical fatigue resistance.
Rosin Core - Low cleaning required after solder joint
Lead free solders are ROHS compliant, restricting the use of Lead, Cadmium, Mercury, Hexavalent Chromium and PBB/PBDE flame retardant material in electrical and electronic products.
Wire Diameter - 0.7mm

Appearance - Bright and shiny surface finishes

Alloy - Sn99.3/Cu 0.7

Melting Point- 227~228°C

Flux Content - 3.0±1%
What's the Difference between Lead Free and 'Normal' Solder?
The most popular solder, 60/40 (60% tin, 40% lead) is is widely used for copper foil work. The flow properties make it the solder of choice, however it does have certain drawbacks, the main being that it contains lead. Lead can cause harm by ingestion, and hands do have a terrible habit of making it into the mouth before they get washed (especially with children)! In situations where a part is likely to be handled frequently (or where a minor is working with solder), it's best to go for the lead free stuff!
The flow properties of lead free solder make it a little different to work with than 60/40, but the only real difference is that it has a slightly higher melting point, so you just need to make sure that your iron is set a little higher than normal. The best way to learn is to use it!
As far as working with solder, you should be diligent about cleaning your hands after touching any solder. Don't eat, drink, smoke, or do anything while working that will cause you to ingest solder, regardless of what type you are using.