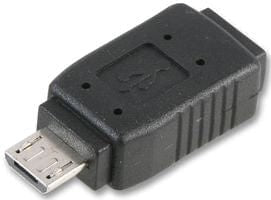 Protect your Raspberry Pi Zero Micro-USB power port from excess wear by fitting it with a Raspberry Pi Power Port Protector!
Unplugging the Raspberry Pi to turn it on and off is bound to wear that tiny micro-USB port to shreds in no time at all. However, by fitting a small male to female converter in between can make sure your Raspberry Pi's power input is safe from excess wear.
Features
Compatible with Raspberry Pi 2/3/3B+ and Zero
Micro USB B (Male) to Micro USB A/B (Female)
Protect your Pi's micro USB port from excess wear and strain.