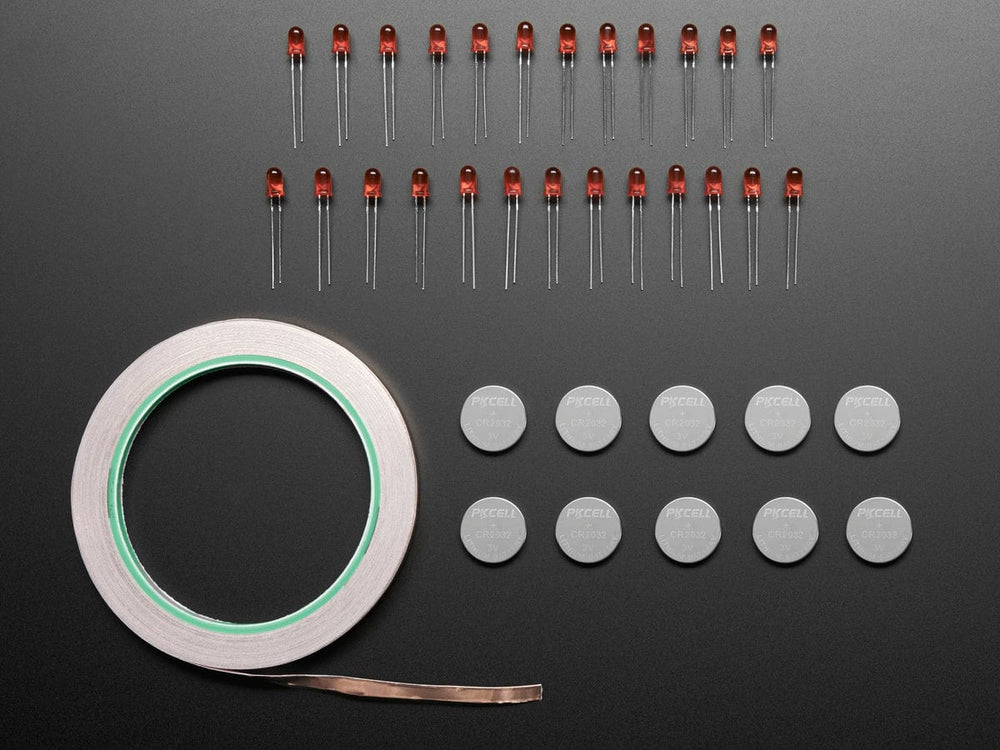 Lithium Battery Shipping:
Due to courier restrictions, this product can only be shipped within England/Wales. With this item in your cart your shipping options will be limited and may cost more than our usual rates.
Why?
---
This is an ancillary kit for "Paper Circuits" -- a new book by Andrew Miller from Makerspaces.com!
A paper circuit is a low-voltage electronic circuit that is created on paper or cardboard using conductive copper tape, LEDs and a power source such as a coin-cell battery. Creating paper circuits is a good way to teach the basics of electricity and how circuits function. In addition to being educational, they can also be a fun makerspace project that helps to bring artwork and paper craft to life. By adding sensors, buzzers and motors to your circuit, you can also add another dimension of interactivity. These simple projects are great for all ages and all makerspaces.
For setting up your paper circuits, visit Makerspaces.com for a tutorial as well as other great tips, and see some more examples at Chibitronics!
Kit includes:
Note: Copper tape can have very sharp edges and is able to cut skin like a paper cut, so be careful. Also, this project is low voltage 3V DC and is NOT intended to be used with your wall outlet or 120v. There are small items used in this project such as LEDs, which can be a choking hazard for children under 3 years. Most importantly, have fun!
Shipping advisory: In order to comply with International Air Transport Association (IATA) regulations for shipping lithium batteries, we are required to limit the shipping methods for this product, which contains 10 lithium batteries. The follow methods may not be used if you are checking out with this product: USPS First Class, Priority and Express, UPS Worldwide Express, UPS Worldwide Saver, UPS Worldwide Expedited, UPS Next Day Air, UPS 2nd Day Air, or UPS 3 Day Select.
UPS ground does not have this restriction.
Technical Details