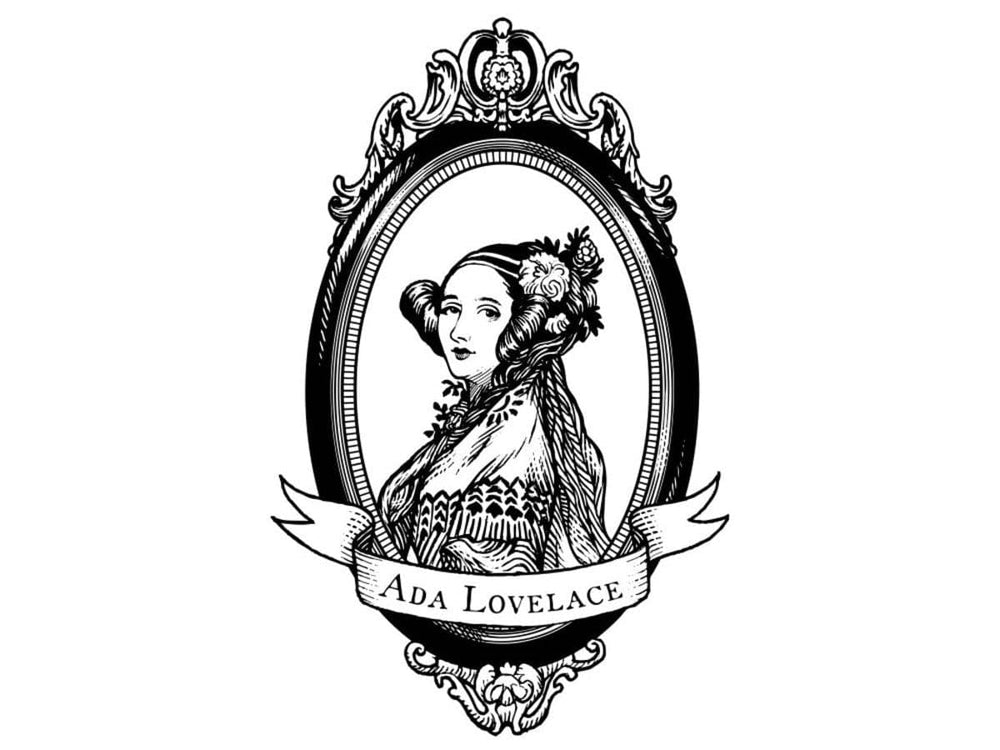 Celebrate Lady Ada Lovelace, one of the world's first computer programmers. Adafruit offers a fun and exciting stickers to celebrate achievement for electronics, science and engineering. We believe everyone should be able to be rewarded for learning a useful skill, a badge is just one of the many ways to show and share.

This is the "Lady Ada Lovelace" sticker for use with educators, classrooms, workshops, Maker Faires, TechShops, Hackerspaces, Makerspaces and around the world to reward beginners on their skill building journey!

Here are some Ada-related facts, events and organizations.
Who was Ada? Ada Lovelace Augusta Ada King, Countess of Lovelace (10 December 1815 – 27 November 1852) was one of the world's first computer programmers, and one of the first people to see computers as more than just a machine for doing sums. She wrote programs for Charles Babbage's Analytical Engine, a general-purpose computing machine, despite the fact that it was never built. She also wrote the very first description of a computer and of software.
The Ada Initiative is a non-profit organization that seeks to increase women's participation in the free culture movement, open source technology and culture. Founded in 2011 by Linux kernel developer and open source advocate Valerie Aurora and open source developer and fellow advocate Mary Gardiner, the organization is named for Ada Lovelace, the "world's first computer programmer."
Who was Ada? Ada Lovelace is an international day of blogging (videologging, podcasting, comic drawing etc.!) to draw attention to the achievements of women in technology and science.
A color woodcut-style portrait of Ada Lovelace, based on the nineteenth century A. E. Chaton portrait.
Original watercolor portrait (Ada lovelace.jpg): Alfred Edward Chalon
Woodcut-style graphic (Ada Lovelace.tif): Colin Adams, for the Ada Initiative
SVG conversion (Ada Lovelace.svg): Fred the Oyster
Colorization: Kaldari


Art licensed as: This file is made available under the Creative Commons CC0 1.0 Universal Public Domain Dedication.

Perfect for laptops or the workbench.

These gorgeous stickers are glossy, vinyl and made to last a lifetime. Made with printing/vinyl machines that are solar powered and using the most green friendly supplies as possible.

MADE IN THE USA!

Adafruit's stickers are manufactured in partnership with AMBRO Manufacturing located in NJ, USA. AMBRO is a family owned and operated business since 1990 that celebrates open-source with Adafruit Industries. You can meet their team here. AMBRO uses non-toxic soy based, water soluble and environmentally friendly printing supplies, threads and more when possible. AMBRO has over 250 solar panels that generate 50,000 Kilowatt hours per year. Their equipment runs solar powered, so the wonderful things AMBRO and Adafruit have worked together on are made with the sun! AMBRO Manufacturing was recognized by Impressions Magazine, a leading trade publication in the garment printing and embroidery business, who published an article highlighting AMBRO and their commitment to their environmentally focused manufacturing practices. Adafruit knows you have a lot of choices as to where you spend your money and time, we hope our open-source values, commitment to green technologies and partners helps make the decision easier and fun!
Technical Details
Approx: 5"x 3" ( 127mm x 76mm)