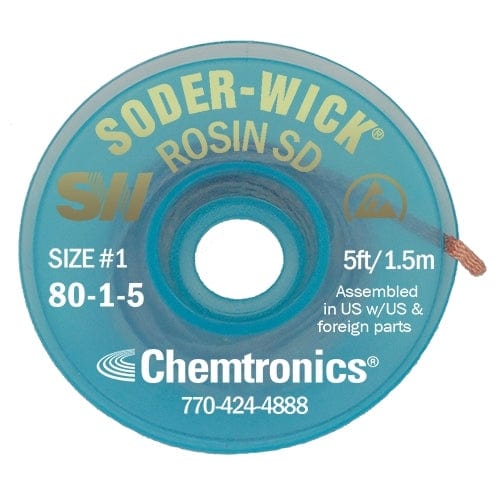 Made a slight error on your project? Need to fix a join that went a bit wrong? This desoldering wick is what you'll need then!
Soder-Wick® brand desoldering wick offers the state of the art in desoldering technology. Soder-Wick® is designed for today's heat-sensitive electronic components using lighter mass, pure copper braid construction that allows for better thermal conductivity, even at low temperatures.
Soder-Wick® responds faster than conventional desoldering braids thereby minimizing overheating and preventing PCB damage.

All wick is sealed in nitrogen-purged packaging to avoid corrosion and loss of performance from moisture and oxygen.
Features
Packaged in ESD-safe static dissipative bobbins
Minimizes the risk of damage associated with static electricity
Noncorrosive ultra-high purity Type R rosin flux
Minimizes the risk of heat damage to the board
Will not leave ionic contamination on the boards
1.5m long, 0.8mm wide
Perfect for lead-free solder
Sold in a convenient reel to keep everything tidy
Tech Specs
0.8mm width
1.5m length on reel
MIL-F-14256 F type R flux
NASA-STD-8739.3 Soldered Electrical Connections
DOD-STD-883E, Method 2022
ANSI/IPC J STD-004, Type ROL0