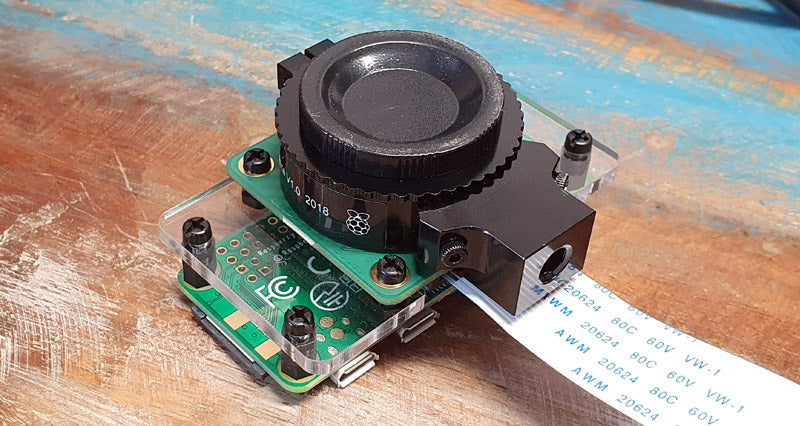 Zero Mounting Plate for High Quality Camera Assembly Guide
How to assemble our Mounting Plate for High Quality Camera!
Note: These instructions are the same are for all versions of our mounting plate - the screws and standoffs all work the same way, just in slightly different positions depending on which Pi you're using.
Bill of Materials
1. The laser-cut parts of the case are protected by an adhesive film which needs to be removed before assembly (this is *very* therapeutic), simply peel it off
2. Let's get the fiddly bit out of the way! Secure the 10mm M2.5 screws to the camera PCB using the provided nuts. These nuts will act as stand-offs, protecting the components on the PCB from getting damaged.
3. Secure the Raspberry Pi camera to the mounting plate with the remaining nuts.
4. Using the smaller 5mm black screws, attach the stand-offs to the rear of the mounting plate
5. Drop your Raspberry Pi Zero on top and secure into place with the remaining 5mm screws.
6. Viola! Case complete!
NOTE: Acrylic is a hard and stiff plastic which is sensitive to stress concentrations and shares a certain level of fragility with glass. Acrylic can scratch easily and should be cleaned with a mild solution of dish detergent and warm water (only once you've removed the Raspberry Pi/Camera!). Never use cleaners unsuitable for acrylic. Never use a dry, abrasive cloth.