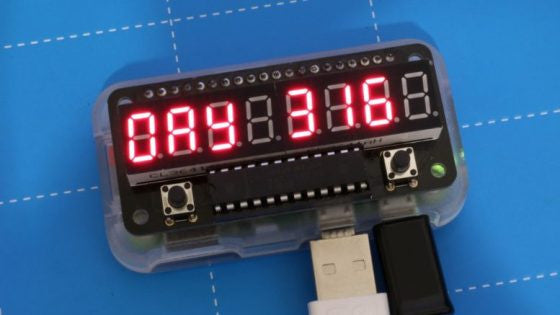 Wordpress stats for the ZeroSeg, a new episode of the PiPod Podcast, a Wii-U console and a Disco Ball - all in today's Raspberry Pi Roundup
Wordpress stats on ZeroSeg
Richard Saville (Average Man) has been hard at work looking at the WordPress API. He's managed to find the necessary guides to dig into the API and extract data for his blog. He's then run this data through his own library for the ZeroSeg add-on board to display page hit stats on the 7-segment displays the add-on board provides. He's documented the code with extensive examples over on his blog.
Podcast!
Over on my own blog, Raspberry Pi Pod, I produce a video/audio podcast with all the latest Raspberry Pi news, events, products information and featured projects. You can watch or listen to the third episode here!
Wii-U console
Over at sudomod.com, banjokazooie has been sharing photographs of his latest build. It is a Wii U gamepad with the innards taken out and replaced with a Raspberry Pi 3 and some other components. He's put RetroPie on the finished result and you can read a short interview with him over on their blog.
Disco Ball!
Wolfie wanted to build a costume for his 12-year old granddaughter for this Halloween. He settled on the idea of a giant wearable disco ball (as you do) and set about building it out of suspended ceiling hanger wire. He added chicken wire and a looooot of duct tape to the framework and then embedded 288 WS2811 LED pixels. Into the mix is thrown a Raspberry Pi 2 to control the sequencing of the LEDs and a level converter to protect the Pi. The Pi itself is powered from a portable power bank, whilst the rest is driven by a drone battery. You can read more over at Thingiverse.