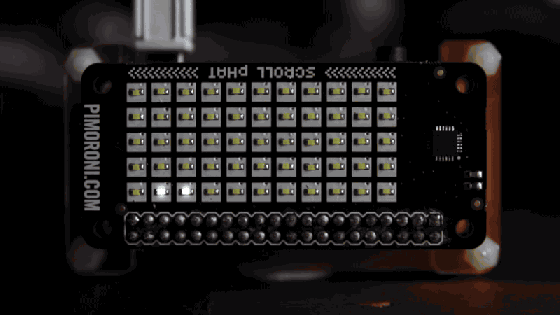 Raspberry Pi Roundup - 14th July 2016
Spectrum analyzer
Sandy Macdonald, one of the Pimoroni crew, has written an excellent tutorial in which he takes a pHAT DAC audio board, a Scroll pHAT and a Raspberry Pi Zero, solders them together and creates a visual spectrum analyzer. Python is used to analyze the audio being played via the DAC and then pump the readings out to the Scroll pHAT. Read how he did it here.
You can get hold of the pHAT DAC from The Pi Hut, and of course you can also get the Scroll pHAT from us too.
Cambridge events
Here's a couple of events local to us for all you Raspberry Pi addicts out there.
The first one is Potton Pi & Pints which will take place on 20th August at The Rising Sun pub in Potton, Bedfordshire. An informal event with Pi people from all backgrounds, level of experience and ages, PPP is a family-friendly affair with the opportunity for food, drink and socialising. Free tickets are available from Eventbrite.
The next is the Cambridge Raspberry Jam which will take place on 17th September at the Institute of Astronomy. There will be mix of Talks, Workshops, Show-and-Tell and, of course, the ever-popular Marketplace. Tickets are available from Eventbrite. Tickets are free for those 16-and-under and £3 for adults. More information about CamJam can be found on their website.
Ten for Zero
In case you missed it when we published it a few days ago, I wrote another post which showed you a collection of projects that you can do with a Raspberry Pi Zero. So, if you need some ideas, take a look.