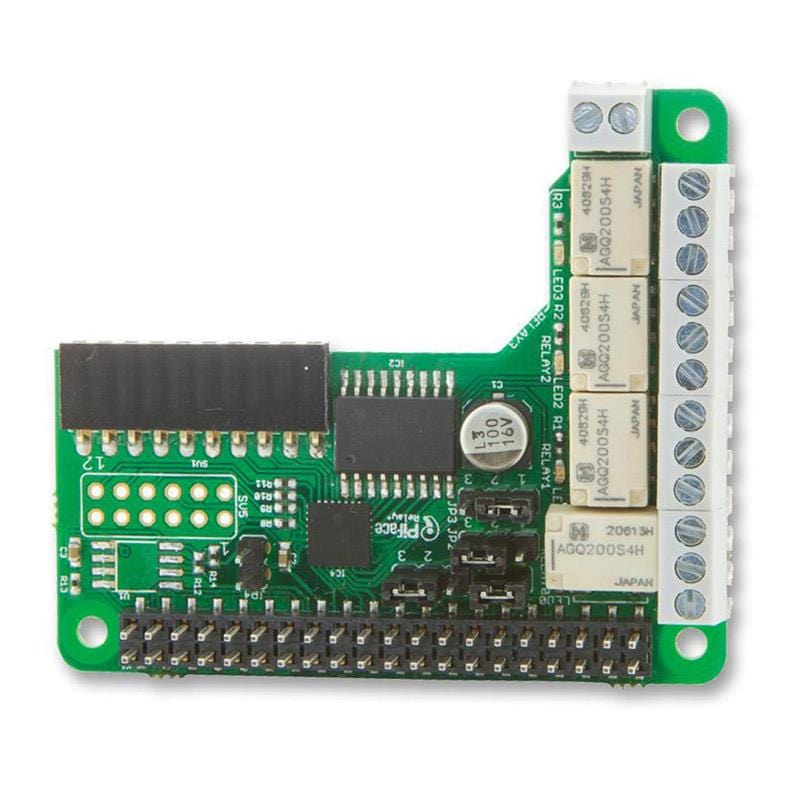 PiFace Relay+ is an add-on board for the Raspberry Pi, providing you with up to 8 relays for your Raspberry Pi. You can stack up to eight PiFace Relay+ boards together, AND with optional expander board plugged into each too (available separately)!
HAT (Hardware Attached on Top) compliant to work with future Raspberry Pi models and other HAT compatible daughter boards. The board comes with pillars/stand-offs to support and mount on top of the Raspberry Pi and an extended 40-way connector.
A downloadable suite of Python based software is available allowing users to interact with any connected devices.
Resources
Features
Four relay outputs for on/off control (switch voltages up to 20V (Max) or currents up to 1A (Max))
4 open-collector inputs
Works with Raspberry Pi models with 40 pin GPIOs
Stackable with up to eight more PiFace Relay+ boards with an expander board on each
Onboard EEPROM
Conforms to Raspberry Pi HAT specification
Easy to program in Python 3 and 2
Support for interrupts
Expansion port for PiFace Extra boards