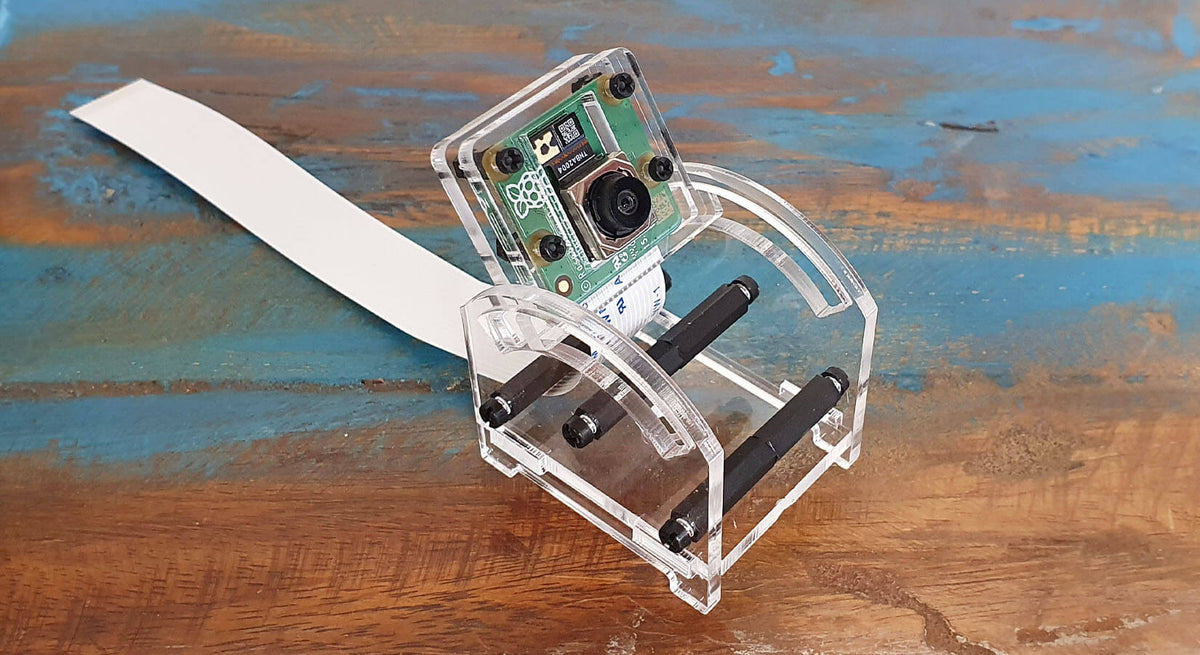 Adjustable Raspberry Pi Camera Mount Assembly Guide
This guide will show you how to assemble the Adjustable Raspberry Pi Camera Mount & Protector. All you'll need is a simple cross-head screwdriver.
We recommend testing your camera module before fitting, to make sure the flex cable is connected properly. We also recommend undertaking this assembly on a tray or similar to avoid losing parts.
Step 1 – Snap the 5 panels out of their holders. Don't forget to peel off the protective plastic covering from all pieces:
Step 2 – Pass the four longer/thinner (M2) screws through the plastic camera panel (the one with the big rectangle hole in the middle):
Step 3 – Now for the fiddly bit, you need to secure the camera module to the panel with the included nuts - use two nuts per screw as this ensures the camera isn't squashed later on.
It's best to try to hold everything in your hands to avoid resting on the lens and causing damage. These nuts are small and a bit fiddly - just take your time. You may find it easier to remove the other screws and just do one at a time - whatever works best for you:
Step 4 – Add the other camera protector layer on top and secure into place with four nuts (one per screw). Don't worry if you have left-over nuts, we included extras in your pack of parts:
Step 5 – Now for the side panels. Screw the female to male standoffs on to one panels using three of the thicker (M2.5) screws: 
Step 6 - Screw the remaining female to female standoffs on to the male ones like this:
Step 7 – Slot the bottom of the mount into the side panel:
Step 8 – You need to do a few things at once here! Fit your camera part (that we made earlier) into the long groove whilst adding the other side panel.
One everything is in place, use the remaining screws to hold it all together. We recommend locking this into place with a single screw at first - you can add the remaining screws once the camera-holder is secured in place.
This is also a good time to get the camera cable where you want it (however you like):
Step 9 - Job done! Connect the camera to your Raspberry Pi and get cracking with libcamera!