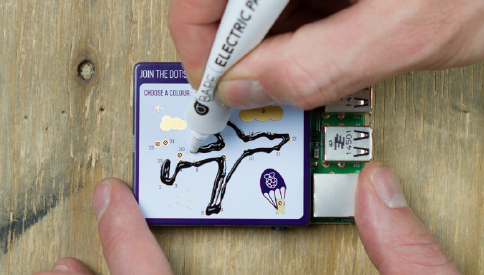 Raspberry Pi Roundup - 23rd December 2015
DOTs
The DOTs board, designed by the Foundation's Rachel Rayns, is now available to buy online. The board, which uses conductive paint in a dot-to-dot fashion, is supplied with a plugin for Minecraft Pi Edition which will draw the outline of the aeroplane shown on the board. You can also use the board to create games and example code is supplied to get you going.
The Pi Hut is the exclusive supplier of the boards. For a single one, the price is £5. There are also great discounts if you want to buy more than 30 or more than 100 of them for schools and conferences. The paint that you'll need is a little on the expensive side but it pays to buy the larger pot if you're going to be using it with multiple people.
Oven
Gordon loves baking and he wanted to remotely access and control the temperature. So, he took a Raspberry Pi model A+, an Adafruit HAT-sized prototyping board and some thermocouples and hooked it all up to his oven. You can read the full story over on his blog.
Zero review
Mikronauts have written an extremely detailed, very balanced review of the Raspberry Pi Zero. Well worth a read if you're dithering about whether to get one or not. Read it here.