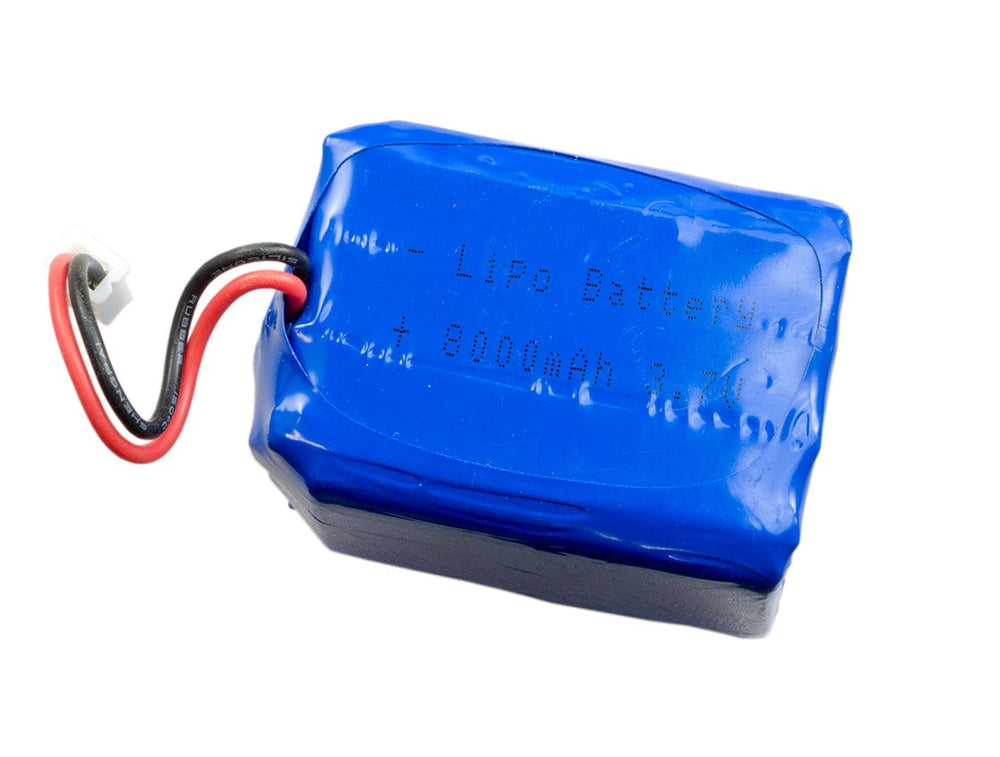 Lithium Battery Shipping: Due to courier restrictions, this product can only be shipped within England/Wales. With this item in your cart, your shipping options will be limited to DHL. Why?
---
3.7V 8000mAh LiPo Battery! Our LiPo batteries come with an embedded PCM (Protection Circuit Module) to protect against over-charging, over-discharging and excessive current draw.
Each battery has an integrated JST XH-2P (NOT JST-PH) 2.5mm connector pre-assembled on 40mm of 22AWG wire.
This battery is compatible with the UPS PIco. Simply remove the small default LiPo from the PIco and swap it with this larger version to upgrade and extended the capacity! This will enable prolonged use of a Raspberry Pi in the event of a power loss without a power supply connected!
Important! Lithium batteries require careful storage and usage, and must only be charged/discharged within the C-ratings listed. Please only consider purchasing this item if you have the knowledge and equipment to use and maintain these batteries properly. If you accidentally damage (bend/piece/crush/dent) these batteries, stop using them immediately and dispose of them safely and responsibly.
Technical Specifications:

Type: LiPO
Voltage: 3.7V
Discharge Rating: 1C (Continuous); 2C (Burst)
Capacity: 8000mAh
Power Rating: 29.6Wh
Power Cable Length: 40mm
Protection Type: Embedded PCB (Over Charge, Over Discharge, Over Current; 4 ~ 6A Max)
Connector: JST XHP-2 (2 Pin x 2.5mm Pitch)
Size: 40mm x 52mm x 34mm
Weight: 134g
Cycle Life: 500
Max. Charge Current: 3 ~ 4A (PCM Limited)
Min. Protected Discharge Voltage: 3.0V (PCM Limited)