Description
Witty Pi 3 is the third generation of Witty Pi, and it is the descendant of Witty Pi 2.
It adds real-time clock (RTC) and advanced power management to your Raspberry Pi, and can define complex ON/OFF sequences with a simple script. 
Raspberry Pi support
Witty Pi 3 supports all Raspberry Pi models with 40-pin header, including A+, B+, 2B, Zero, Zero W, 3B, 3B+, 3A+ and 4B.
Please note: Whilst the micro-USB port can offer the Raspberry Pi 4 up to 3A of current, only 2A is available for the Pi + peripherals when inputting power via the XH2.54 connector.
Features
The Witty Pi 3 is packed with clever power management features:
You can power your Raspberry Pi with higher voltage.
You can gracefully turn on/off Raspberry Pi with single tap on the switch.
After shutdown, Raspberry Pi and all its USB peripherals' power are fully cut.
Raspberry Pi knows the correct time, even without accessing the Internet.
Raspberry Pi knows the temperature thanks to the sensor in RTC chip.
You can schedule the startup/shutdown of your Raspberry Pi.
You can even write a script to define complex ON/OFF sequence.
Shutdown Raspberry Pi when input voltage is lower than pre-set value.
Turn on Raspberry Pi when input voltage raise to pre-set value.
When the OS loses response, you can long hold the switch to force power cut.
Simple setup
You just need to run these two commands in your Raspberry Pi to install Witty Pi 3's software, then you mount Witty Pi 3 on your Raspberry Pi, and enjoy these amazing features provided by Witty Pi 3:
wget http://www.uugear.com/repo/WittyPi3/install.sh

sudo sh install.sh
Differences with the Witty Pi 2
Comparing to Witty Pi 2, Witty Pi 3 uses the same RTC chip (DS3231SN) and introduces a new micro-controller (ATtiny841), which allows it to behave smarter and handle more complex situations.
Thanks to the new on-board LDO voltage regulator (LM29150), Witty Pi 3 can accept DC voltage higher than 5V (up to 26V, depends on the load and heat sink).
Quick & easy configuration
Witty Pi 3 doesn't have any jumpers - all configurations are achieved via I2C interface. Witty Pi's software can help you to make configuration very quickly.
User manual
You can find much more information in the user manual: http://www.uugear.com/doc/WittyPi3_UserManual.pdf
Each Witty Pi 3 package contains:

Witty Pi 3 board x 1
CR2032 battery x 1
M2.5 x 11mm Copper Standoff x 4
M2.5 screws x 8
SPECIFICATION:
Dimension: 65mm x 56mm x 19mm
Weight: 20g (net weight without battery)
Battery: CR2032 (for time and alarms keeping)
Power In: DC 5V (via micro USB) or DC 5.3V~26V (via XH2.54 connector, better no higher than 8V without additional heat sink)
Output Current: Up to 3A for Raspberry Pi and its peripherals if input via micro USB port. Up to 2A if input via XH2.54 connector.
Static Current: ~1mA
Operating Temperature: -30℃~80℃ (-22°F~176°F)
Storage Temperature: -40℃~85℃ (-40°F~185°F)
Humidity: 0~80%RH, no condensing
USER MANUAL
More information about this product can be found in its user manual: http://www.uugear.com/doc/WittyPi3_UserManual.pdf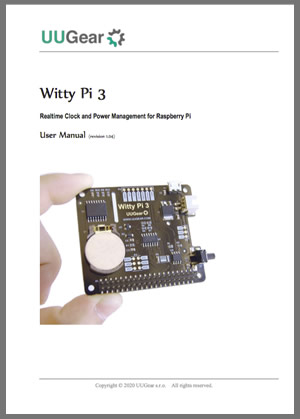 Payment & Accreditations
Your payment information is processed securely. We do not store credit card details nor have access to your credit card information.
---
Accreditations